April 26, 2009
By Donald Starver
With their second pick in the 3rd round, the Steelers selected Mike Wallace.  Wallace is a 6'0, 180 pound wide receiver out of Mississippi.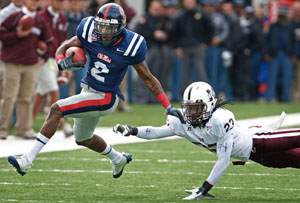 This pick came as a surprise.  Few (if any) scouting reports had Wallace rated this high.  Most had him listed as being between the 25th - 34th best wide receiver in the draft.
When you talk about Mike Wallace, the first word that comes to mind is speed.  Wallace is one of the fastest players available in the draft.  He ran a 4.3 in the 40 yard dash.  Former Tampa Bay coach John Gruden said that they timed him at a blazing 4.28 seconds.  The kid is fast.  Super fast.  He is much faster than Nate Washington, Santonio Holmes, or Limas Sweed.  He is immediately the fastest receiver on the Steelers, and will challenge Willie Parker for team honors.
Wallace is capable of impacting the game in a number of ways.  He was one of the most dangerous kick returners in the country last year, and the Steelers will be able to utilize this aspect of his game immediately.  He averaged 23.2 yards per kickoff return, and returned two kickoffs for touchdowns.
Wallace's speed was also apparent at the wide receiver position, where he led the SEC in yards/catch for two consecutive seasons.  He averaged 18.8 yards/catch during his junior year, and improved it to 20.1 yards/catch last year.
Despite his blazing speed, Wallace is more of a track star than a football player.  His hands are suspect, and he is very thinly built.  He has mostly straight line speed, and is not particularly good at changing directions.
Wallace catches the ball with his body, and is going to have to learn to extend his arms and catch with his hands.  More importantly, Wallace is going to have to eliminate drops.  His speed will get him separation, but he has to hold onto the ball.  Moreover, he won't be able to rely on pure speed at the next level.  Wallace will have to run crisper routes to elude savvy NFL defenders.
Wallace will also have to become more physical.  He is easily jammed at the line, and shows little desire to fight through it.  He also is not a willing blocker. However, spending time with Hines Ward will surely change this.
"He's a burner", said Steelers' offensive coordinator Bruce Arians.  "He hasn't gone over the middle a lot, but he's an outside speed guy who's an excellent return guy.  We really, really like him".
Wallace will have an immediate impact in the Steelers return game.  However, his impact on the passing game may not be felt until year 2 or 3.  He must develop better hands and better route running skills.  But he has speed to burn, and that can't be taught.
To read about the Steelers' previous pick, click here.
To read about the Steelers' next pick, click here.
(If you enjoyed this article, please consider leaving a comment below. Also, please subscribe to our blog by pressing the orange button below. Thanks.)

Subscribe in a reader