April 26, 2009
By Donald Starver
With their first pick in the 3rd round, the Steelers selected Kraig Urbik.  Urbik is a big guard from Wisconsin.  Urbik stands 6'5″, and weighs 328 lbs.  Like I said, he's big.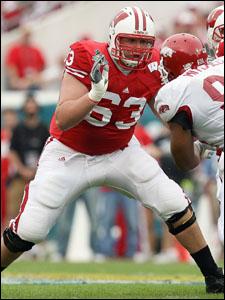 Urbik was probably the best offensive lineman still available at this spot, and he represents good value.  More importantly, he meets a need for the Steelers.  The team has finally gotten around to addressing their porous offensive line.
First, lets look at the good aspects of this pick.  As I mentioned earlier, Urbik is a big, strong kid.  He comes from a quality Wisconsin program that has produced a stream of successful NFL linemen.  Urbik has a good motor and plays until the whistle blows.  He is tough, has good football intelligence, and is a very hard worker.
Urbik is a road grader who is very hard to move.  He is very hard to bull rush.  He will not be overpowered, regardless of who he faces.
Despite being a guard, he nevertheless emerged as a team leader on the Badgers.  He missed some games last season due to a knee injury, and the team struggled in his absence.  They lost 5 of 6 contest while Urbik was out, but then rallied to win 3 of their last 4 when Urbik returned.
Urbik started 50 games during his career at Wisconsin, including a few at right tackle, so he does provide some versatility.  He is a road grader who should excel in run blocking.
On the negative side, Urbik is not particularly quick, and he may struggle in pass coverage.   Urbik's lack of quickness is frequently exposed by speed rushers.  During drills at the NFL Combine, this weakness was exposed as Urbik constantly had to hold speed rushers who had a good swim move or spin move.   Urbik struggles in open space, and is easy to get around.  Moreover, Urbik doesn't have the speed to get out an pull.
Aside from his quickness problems, Urbik also has flaws in his technique that are going to have to be addressed at the next level.  He must work on his footwork.   His hand quickness will also need to be developed.  Lastly, he must sustain his blocks longer than he does.
Urbik will probably do better as a right guard than as a left guard due to his quickness problems.   While he did play right tackle at Wisconsin, this is not an option for him in the NFL.
The bottom line is that Urbik should see time immediately with the Steelers.  He should bump Darnell Stapleton out of the starting line-up.  However, he immediately help the running game.  However, he is not the answer to Big Ben's sack problems, since pass blocking is his weakness.
For previous pick, click here.
For next pick, click here.
(If you enjoyed this article, please consider leaving a comment below. Also, please subscribe to our blog by pressing the orange button below. Thanks.)

Subscribe in a reader