May 5, 2009
By Donald Starver
Well, the Larry Foote saga finally came to an end with the Pittsburgh Steelers.  The Steelers released him yesterday.
This comes as no surprise to fans.  ESPN mistakenly reported that the Steelers had released him last week.  They hadn't.  However, Foote had asked for an opportunity to play for a team that would allow him to be more than a two down linebacker.  Unspoken in his request was probably also a desire to get one final big payday before his career is over.  Nothing wrong with that.  After all, Foote is 28 years old, and NFL players can't play forever.
The Steelers tried to honor Foote's request.  They tried to trade him to another team.  However, they got no takers in the trade market.  Perhaps this was inevitable.  Why would a team give the Steelers a draft pick for Foote when they knew that they could get him for free when the Steelers released him?  So on Monday, the Steelers gave Foote his unconditional release.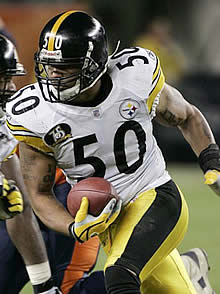 I have read various Steelers message boards, and heard fans say some things about Foote that I found to be disturbing.  First, I saw several fans call Foote "disloyal" for requesting a trade.  I don't understand this line of thinking.  Fans have to understand that the NFL is a business, and that there is no such thing as loyalty.  Frankly, why should a player be loyal to a team, when teams can cut players anytime they want to?  Moreover, when the players are cut, the teams owe them nothing, even if they still have years left on their contract.  So in my opinion, the disloyalty argument just doesn't hold up.
Foote was not disloyal.  He was a victim of the realities of the salary cap in the NFL.  He was a 28 year old player with a $3 million dollar salary cap hit, and a younger, faster, 1st round draft pick playing behind him.  Foote's fate was sealed, whether he had requested a trade or not.
Other fans have said that Foote was the weak link in the Steelers defensive lineup, and that he needed to go.  Sorry, but I can't agree with that argument either.  Sure, Larry was the least decorated of the Steelers' starting linebackers.  But he plays on a team with NFL Defensive Player of the Year James Harrison, Pro Bowler James Farrior, and emerging superstar LaMarr Woodley.  That's a pretty outstanding bunch.  Somebody has to be a role player.
Foote played a role, and he played it well.  Need proof?  Larry Foote started every game for the Pittsburgh Steelers since 2004.  The Steelers defense is the top rated defense in the NFL over that period.  That's right, #1.  During that time, Joey Porter left the team, and James Harrison and LaMarr Woodley became starters, but Larry Foote was always there.  The quiet constant in the Steelers' dominant "D".
Perhaps the most important statistic of all is that Larry Foote was the starting linebacker on two Super Bowl championship teams.  He helped put two Lombardi trophies in the Steelers' trophy case.  How many did Greg Lloyd win?  None.  Kevin Greene?  None.  Jason Gildon?  None.  Levon Kirkland?  None.  Mike Merriweather?  None.  Kendrell Bell?  None. See my point?
I'm not saying that Foote was a better player than the linebackers listed above.  He wasn't.  But Larry Foote was a reliable, dedicated player on some of the greatest teams in Steelers history.  Only the Steel Curtain of the 1970′s accomplished more.  For that, Foote will always hold a position of honor.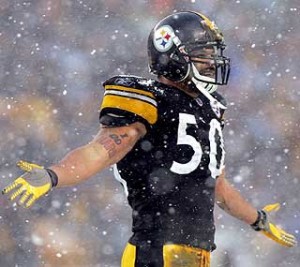 Like former Steelers Joey Porter, Kevin Greene, Rod Woodson, Carnell Lake, Clark Haggans, Kimo Von Oelhoffen, and Levon Kirkland, Foote will not end his playing career with the Steelers.  But there is an interesting phenomenon that happens with Steelers players.  Even if they go to another team, in their hearts they always remain Steelers.  Rod Woodson won a Super Bowl with the Ravens.  But he thinks of himself as a Steeler.  Kevin Greene only played for the Steelers for 2 seasons.  But he thinks of himself as a Steeler.  The Miami Dolphins made Joey Porter a very rich man.  But in his heart, he is still a Steeler.
The Steelers organization, and Steeler Nation has a funny way of doing that to players.  It gets in their system, and they can't get it out.  No matter where they go.  Once a Steeler, always a Steeler.  Players understand that for a brief period of time, they were a part of something special.  They know that the Steelers are not just any football team.  They know that Steelers fans are not just any fans.
Good luck, Larry.  You will always be a Steeler.  Regardless of whether you sign with your hometown Detroit Lions, or if you end up with the Arizona Cardinals (like 99% of ex-Steelers), your heart will always be in Pittsburgh, and we will always consider you to be family.
(If you enjoyed this article, please consider leaving a comment below. Also, please subscribe to our blog by pressing the orange button below. Thanks.)

Subscribe in a reader