Note:  If you haven't already read our Pittsburgh Steelers vs. San Diego Chargers Preview, please click here.
This week the San Diego Chargers invade Heinz Field to battle the Pittsburgh Steelers. 
Each week we look at the key match-ups that may impact the outcome of Sunday's game.  Here are this week's key match-ups.
C Justin Hartwig vs. NT Ogemdi Nwagbuo
Ordinarily teams facing the Chargers have to deal with NT Jamal Williams.  Unfortunately, the 350 pound Williams is on  injured reserve, so instead the Steelers will have to face his replacement Ogemdi Nwagbuo.  Nwagbuo is 50 pounds lighter than Williams, and spent last season on the Chargers' practice squad.  I'm sure that Steelers center Justin Hartwig is very happy to be facing the really fat replacement rather than the extraordinarily fat injured starter.  Advantage:  Steelers.
S Tyrone Carter vs. TE Antonio Gates
Even when Troy Polamalu is healthy, Chargers TE Antonio Gates is a difficult match-up.  Gates is tall (6'4″), and has great hands.  With Polamalu out with an injury, the responsibility of stopping Gates falls to Tyrone Carter.  Carter gives up 8 inches and 65 pounds to the much bigger Gates.  Needless to say, that's not a good thing.  Sorry Tyrone, but it's going to be a very loooooooong day for you.  Advantage:  Chargers
CB Ike Taylor vs. WR Vincent Jackson
Jackson is tall (6'5″) and fast, but Taylor is also tall (6'2″) and faster.  It will take a lot to shut down QB Philip Rivers' favorite target, but Ike Taylor should be up to the challenge.  This should be one of the most exciting match-ups of the game.  Advantage:  Neither.
LBs James Harrison and LaMarr Woodley vs. Philip Rivers
Chargers QB Philip leads the NFL in passing.  He is a brash young quarterback who can pick teams apart if given time.  The only way to stop Rivers is to apply pressure and force him to hurry his passes.  That challenge will fall to linebackers James Harrison and LaMarr Woodley.  So far this season, Harrison has only 1 sack and Woodley has none.  That will have to change, or the Steelers could be in for a long day. Advantage:  Neither 
Rashard Mendenhall vs. his playbook
Last week Mendenhall was benched by coach Mike Tomlin because he did not know his playbook.  One week later, Willie Parker is likely to be out due to turf toe, and Mendenhall may get the start.  Is it realistic to believe that Mendenhall could successfully learn the plays in one week?  After all, this is Mendenhall's second season with the Steelers.  If he couldn't learn the plays during the course of 2 training camps and a full season, why should we believe that he can learn them in one week?  I remember watching Mendenhall run into Ben Roethlisberger during a game earlier this season.  Hopefully, we won't see any more mental gaffes from Mendy.  Advantage: Playbook.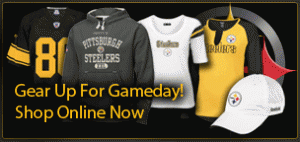 (If you enjoyed this article, please consider leaving a comment below. Also, please subscribe to our blog by pressing the orange button below. You can also follow us on Facebook or Twitter by clicking the doohickies at the bottom of the right column of this page.  Thanks.)

Subscribe in a reader