October 2, 2009
By Donald Starver
After 2 straight losses, the Steelers will attempt to regain their winning ways this Sunday against the San Diego Chargers.  The game will begin at 8:20 PM (ET), and will be nationally televised on NBC's Sunday Night Football.
The Steelers have never lost a game to the Chargers in Pittsburgh during the regular season.  That's right, NEVER.  The Chargers' only win in Pittsburgh came in the 1994 AFC Championship Game.
The Chargers enter the game with a 2-1 record.  Their lone loss came in week 2, when they lost to the Baltimore Ravens 26-31.
Like the Steelers, the Chargers have been playing without one of their star players.  LaDainian Tomlinson injured his ankle in week 1, and has missed the last two games.  If Tomlinson can't play, the Chargers will have to rely on Darren Sproles to lead their rushing attack.
Despite missing Tomlinson, the Chargers offense has been potent.  Chargers QB Philip Rivers leads the NFL with 991 passing yards through 3 games.  Rivers leads a Chargers offense that reminds some of the old  "Air Coryell" Chargers offense.
In his last two games, Rivers has passed for 739 yards (303 vs. Miami, and an amazing 436 versus Baltimore's normally stout defense).  That's the most yards by a Chargers QB in a 2-game stretch since Dan Fouts threw for 784 yards in 1985.
What makes the Chargers' passing attack so difficult to stop is their collection of big receivers.  Wide receivers Vincent Jackson and Malcolm Floyd are both 6'5″.  Tight end Antonio Gates, another Chargers receiving threat, is 6'4″.  This is going to create match-up problems for the Steelers' defensive backs.  Cornerback Ike Taylor is 6'2″, however CB Willie Gay is only 5'10″.  The Steelers' safeties aren't big either.  Safety Ryan Clark is 5'11″, and safety Tyrone Carter is 5'8″.
The Chargers' defense is also depleted.  Linebacker Shawne Merriman did not practice on Thursday due to a groin injury.  He will be a game-time decision.
The Chargers will also be playing without massive nose tackle Jamal Williams.  The Chargers' 350 pound lineman is out for the season with a tricep injury.  His backup, Ogemdi Nwagbuo was a member of the Chargers' practice squad last year.  Nwagbuo is 50 lbs. lighter than Jamal Williams, and will not pose the challenge that Williams does.
As Steelers fans know, the nose tackle is the most important position on a 3-4 defense.  So playing against Nwagbuo may be just what the Steelers offense needs to get their running game in gear.
The Steelers' running game looked much improved last week, as Willie Parker rushed for 93 yards on 25 carries.  Perhaps the running game will get a boost this week.  The team signed RB Carey Davis this week.  Davis had been released after Steelers training camp, but was still available when Frank Summers suffered a mysterious back injury (am I the only one who thinks that the only thing on Summers that is injured is his blocking ability?).
The Steelers passing game should also be improved, as wide receiver Shaun McDonald will probably replace Limas Sweed on the active list for the game.  After dropping a sure touchdown pass in last week's game, Sweed has been dropped to the bottom of the Steelers' WR depth chart.
As much as I'd like to predict a big win by the Steelers, we know that the Steelers never seem to win by a big margin.  Instead, they like to keep their fans on the verge of cardiac arrest until the final seconds of the game.  With that in mind, I predict the Steelers will win a close game by a score of 21-17.
Note:  To check out our Steelers vs. Chargers key match-ups, please click here.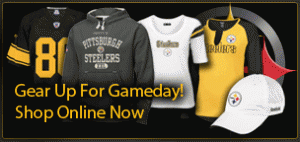 (If you enjoyed this article, please consider leaving a comment below. Also, please subscribe to our blog by pressing the orange button below. You can also follow us on Facebook or Twitter by clicking the doohickies at the bottom of the right column of this page.  Thanks.)

Subscribe in a reader