April 26, 2009
By Donald Starver
With their second pick in the 5th round, the Steelers selected Frank "The Tank" Summers.   Summers stands 5'10″, and weighs 230 lbs.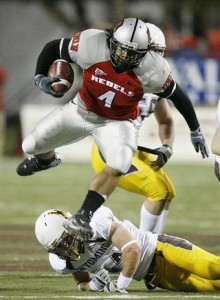 Nicknamed "The Tank" because of his bruising running style, Summers is a strong, physical running back from UNLV. 
At UNLV, Summers was known as a workhorse running back who tended to get better as the game wore on.  His physical style tended to wear down defenders.  He was named the toughest player to bring down in the MWC by Lindy's.
Despite his large size, Summers is also a receiving threat out of the backfield.  He has soft hands, and is the only player in UNLV history to lead his team in both rushing and receiving touchdowns in the same year.  He posted both the team's longest rushing touchdown and their longest receiving touchdown.
httpv://www.youtube.com/watch?v=IC1OFDMdMik
Summers rushed for 928 yards and 6 touchdowns as a junior, and 740 yards and 8 touchdowns as a senior.
Everyone knows that the Steelers have struggled in short yardage situations over the last few years.  The addition of Summers, along with the return of Rashard Mendenhall, should definitely help that situation.
To read about the Steelers' previous pick, click here.
To read about the Steelers' next pick, click here.
(If you enjoyed this article, please consider leaving a comment below. Also, please subscribe to our blog by pressing the orange button below. Thanks.)

Subscribe in a reader