April 26, 2009
By Donald Starver
With their first pick in the 5th round, the Steelers selected Joe Burnett.  Burnett is a cornerback from Central Florida.  He stands 5'10″, and weighs 185 lbs.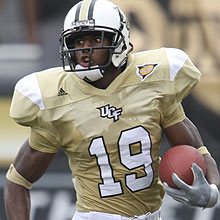 Burnett was a record breaking cornerback and return man for UCF.  He was a first team All-American his senior year, and helped UCF to its first two bowl berths (2007 & 2008), and its first conference championship (2007) in school history.
Earned eight Conference USA All-Conference honors, including four straight first team punt returner awards.  Named Conference USA Special Teams Player of the Year his senior year.  Finished in 19th place for career punt return yards in NCAA history with 1,304.  Was the only player in the nation to be in the top 20 in both kickoff returns and punt returns.
Set the UCF career record with 16 interceptions.  Tied record for most career punt return touchdowns (3).
httpv://www.youtube.com/watch?v=10F5Ma4qRHw
Is considered to be a bit small to play cornerback in the NFL.  However, he has good technique, and is stronger than you'd expect for his size.  He is never out of place, and plays with discipline.
Because of his size, he struggles to get off blocks.  He also tends to give too much cushion to receivers.
He can bring pressure as a blitzer, but he doesn't finish off the quarterback.  He is more of a cut tackler, and doesn't wrap up with his arms.
Burnett probably isn't going to make an immediate impact on the Steelers defense, but he should have an immediate impact on special teams.   Earlier pick Mike Wallace is primarily a kickoff returner, while Joe Burnett will upgrade the punt return game.
To read about the Steelers' previous pick, click here.
To read about the Steelers' next pick, click here.
(If you enjoyed this article, please consider leaving a comment below. Also, please subscribe to our blog by pressing the orange button below. Thanks.)

Subscribe in a reader