As we've been expecting, free agent WR Nate Washington will be leaving the Steelers to pursue more money.  Washington signed a new deal with the Tennesee Titans.  Washington's deal is reported to be 6 years, $27 million.
Washington had emerged last season as the Steelers' #3 receiver.  He proved to be able to spread the field, and led the team in yards per catch (15.8 yds/rec.). 
Although his speed allowed him to get separation from his defenders, Washington's hands were always suspect.  When drafted out of tiny Tiffin University, the Steelers knew that Washington was going to be a project.  During his first two seasons with the team, he was more likely to drop the ball than to catch it.  But during the past two seasons, he finally gained confidence.  It's unfortunate that the Steelers will have to lose Washington after developing him into the player that he's become.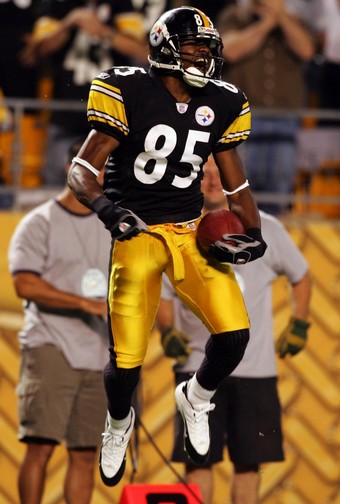 But even if he had stayed with the Steelers, Washington would have been relegated to the #3 receiver position.  He will be much easier to replace than Hines Ward or Santonio Holmes would be.
Waiting in the wings to replace Washington is last year's 2nd round draft pick, Limas Sweed.  Sweed is both bigger and faster than Washington, and given time, should develop into an even better player than Nate became.
Sweed is 6'4″ and 220 lbs., whereas Washington was only 6'1″ and 185 lbs.  Moreover, Sweed came from a much better college program (Texas) than Washington did.
Many fans got down on Sweed when he dropped passes during the Steelers' Super Bowl run.  However, fans have to remember that Sweed was only a rookie, and he saw very little playing time last season.  If he works hard during the off-season, he should come into training camp as the #3 receiver, and should prove to be a competent replacement for Washington.
The position will not just be handed to Sweed.  He'll have to earn it.  He will compete with Martin Nance during training camp.  Nance was on the Steelers practice squad after being cut by the Minnesota Vikings.  As fans may remember, Nance was Ben Roethlisberger's favorite receiver at Miami of Ohio.  Nance has good size (6'3″, 213 lbs.), however he is rather slow footed.
I would expect the Steelers to draft another receiver to compete during camp, as well as to add depth at the position.  However, I believe that it might be prudent for them to pick up a bargain priced veteran receiver in free agency as an insurance policy.  I have no doubt that Sweed will be a good NFL receiver.  I'm just not certain that it will be in 2009.
(If you enjoyed this article, please consider leaving a comment below. Also, please subscribe to our blog by pressing the orange button below. Thanks.)

Subscribe in a reader