On Monday, the Steelers travel to Invesco Field in Denver to take on the 6-1 Denver Broncos.  This is a highly anticipated game with lots of interesting storylines.
We all know that the Steelers tend to do very well when they play on Monday Night Football.  Linebacker James Harrison, in particular, tends to put on seemingly super-human performances anytime he is on the big stage of MNF.
Here is a look at some of the key match-ups that may determine the outcome of the game.
LB James Harrison vs. LT Ryan Clady
The match-up against James Harrison is always of interest.  I like Ryan Clady, and I advocated him as a potential draft pick for the Steelers when he came out of college.  He is a very good left tackle.  Unfortunately for him, James Harrison is an extraordinarily good LB.
Clady is going to learn what every other left tackle that the Steelers have faced already knows.  The only way to stop James Harrison is to hold him.  Advantage - Steelers.
LB LaMarr Woodley vs. RT Tyler Polumbus
Woodley hasn't been able to amass sacks this year like he did last year.  However, this may be just the game that Woodley needs to get on track.  Broncos' starting RT Ryan Harris is injured and won't be playing on Monday night.  So Woodley will be lining up against backup Tyler Polumbus.
Woodley is a tough match-up for most starters.  He should have an advantage against a backup.  Woodley may have a multi-sack performance against the Broncos.  Advantage - Steelers.
LT Max Starks vs. LB Elvis Dumervil
Dumervil is second in the NFL with 10 sacks.  He is short for his position, very strong, and plays with a non-stop motor.  Sound familiar?
Dumervil is like a clone of the Steelers' own James Harrison…only shorter.  Max Starks knows what to expect when he faces Dumervil.  After all, he has to practice against James Harrison each week.  That experience should help Starks.  Unfortunately, it probably won't help him enough.  Advantage - Broncos.
DE Nick Eason vs. RG Chris Kuper
The Broncos are not fools.  They know that Aaron Smith is out for the season.  They also know that his backup, Travis Kirschke, is injured.  NFL teams are adept at exploiting opponent's weaknesses, and the Broncos are sure to try to take advantage of this match-up.  However, the Broncos are going to be surprised to find that Nick Eason is a very experienced veteran backup.  He's big for a defensive end, and he's a good run stopper.  Eason won't win this battle, but he won't lose it either.   Advantage - None.
CB Ike Taylor vs. WR Brandon Marshall
Marshall is a big (6'4″, 230 lbs.) target, and he is adept at winning jump balls against most cornerbacks.  However, Ike Taylor isn't most cornerbacks.  Taylor takes on the best receivers on the opposing team each week, and he seldom comes out on the losing end of those battles.   Advantage - Steelers.

Rashard Mendenhall & Willie Parker vs. Broncos defense
The Broncos have the #1 ranked defenses in the NFL.  They're #3 against the run, and only allow 86.1 yards per game on the ground.
It's going to take both Rashard Mendenhall and Willie Parker to beat the Broncos' defense.  If the Steelers can get their running game going, it will be a tremendous advantage for Big Ben in the passing game.  Unfortunately, the Steelers' running game has been up and down this season.  The offensive line is greatly improved, but they're still prone to occasional lapses.  It's hard to know which version will show up from week to week.   Advantage - Broncos.
Ryan Clark vs. Thin Colorado air
Ryan Clark suffers from sickle cell.  The last time he played in Denver, it almost killed him.  Both Clark and Steelers head coach Mike Tomlin have been wrestling all week with the question of whether Clark should play.  Personally, I don't see what there is to wrestle with.  This one is pretty black and white.  Nobody foresaw the reaction that Clark's body had last time, and no doctor can say with 100% certainty what will happen this time.
I appreciate Clark's attitude, and his desire to be there for his teammates.  But playing in this game would be foolish.  Sit this one out, Ryan.  In fact, don't even take the flight to Colorado.  Stay home and watch the game on TV.  Advantage - Thin Colorado air.
Also, if you haven't already done so, be sure to read our Steelers vs. Broncos Preview.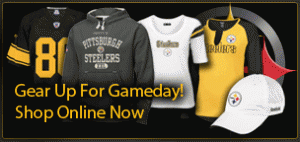 (If you enjoyed this article, please consider leaving a comment below. Also, please subscribe to our blog by pressing the orange button below. You can also follow us on Facebook or Twitter by clicking the doohickies at the bottom of the right column of this page.  Thanks.)

Subscribe in a reader