July 28, 2009
By Donald Starver
Three more days until the start of training camp.  I was hoping to have this series completed before training camp began, but it doesn't look like that is going to happen now.   Darn!
In part 1 of this series we looked at the defensive line.  In part 2 we looked at the linebackers.  In this installment, we are going to turn our attention to the safeties.
In the 2 years that Mike Tomlin has been coach, he has typically carried 4 safeties on the roster.  This number has gone as low as 3 at times due to injuries.  However, 4 seems to be his preferred number.
With that in mind, let's assume that this year, the Steelers will come out of training camp with 4 safeties on the roster.  The Steelers will go to training camp with 5 safeties, so our task is to identify who is likely to be the odd man out when training camp ends.
Troy Polamalu - Had it not been for James Harrison's super-human season in 2008, most Steelers fans would have been pimping Troy Polamalu for Defensive Player of the Year.  Polamalu rebounded from a sub-par, injury-riddled 2007 season with a vengeance.  In 2008 he recorded 73 tackles, 7 interceptions, and 24 passes defensed.  Those are exceptional numbers by anyone's standards.
I think the Steelers should keep this kid.  Don't you?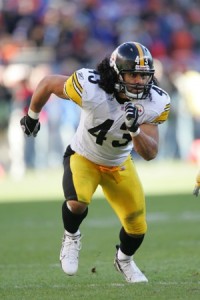 Ryan Clark - Clark has always been a competent, if unremarkable safety for the Steelers.  He does his job well and without fanfare.   However, Clark made some devastating hits last season that made fans stand up and take notice.  His hit on Patriots receiver Wes Welker particularly stands out.  That play alone probably made him a favorite of many Steelers fans, and earned him a spot on the 2009 roster.
Tyrone Carter - It is no secret that I am not a fan of Tyrone Carter.  While Carter has been adequate when called upon to play, I have always felt uneasy about his physical stature.  There just aren't many 5'9″, 195 pound strong safeties in the NFL.  Carter is okay in a pinch, but if anything were to happen to Troy Polamalu, I wouldn't want to depend on Carter as a long-term solution.
Carter is a 10 year veteran, so his experience counts for something.  However he is 33 years old.  That's 79 in football years.  His time with the Steelers will not last much longer.
Ryan Mundy - Mundy lost his rookie season due to injury.  With the loss of Anthony Smith, Mundy is going to have to step up and earn his paycheck.  This is likely, since the Steelers' coaching staff has had nothing but good things to say about Mundy since he joined the team.  I feel confident that Mundy is going to be given every opportunity to make the team.
Derrick Richardson - The free agent from New Mexico State has a real chance of making the Steelers.  He was a second team All-WAC selection his senior year.  He led the nation in tackles per game with 12.5 per game.  That was more that .5 tackles per game more than his closest competitor.  He recorded 8 games with double digit tackles, and had a 21 tackle performance against UTEP.  In 2008, no NCAA defensive player was more of a playmaker than Derrick Richardson.
Richardson is a tough, aggressive safety who is excellent in run support.  That will play well in Dick LeBeau's defense where safeties MUST be strong in run support.  He is physical, and is always around the ball.  He is also an aggressive special teams player.
Richardson is not as strong in coverage, and has marginal ball skills.  He is not going to lead the league in interceptions.
Richardson is primarily a strong safety, so he will be going head-to-head with Tyrone Carter.  While I would like to see Richardson beat out Tyrone Carter, I just don't see it happening.  Ryan Mundy is essentially a rookie, and I just can't see the Steelers coming out of training camp with 2 rookies as the back-ups at safety.  That would leave the team too exposed if one of the starters suffered an injury.
Therefore, I project that Derrick Richardson will be placed on the practice squad, and Tyrone Carter will maintain his position on the 53-man roster.
Today's Featured Item:  Steelers Black Upgrade T-Shirt
Buy the best Steelers gear right here at Steelers Today.  Check out this really cool Steelers T-shirt.  Can't you just see yourself walking around representing Steeler Nation in this beauty?   Click below to purchase.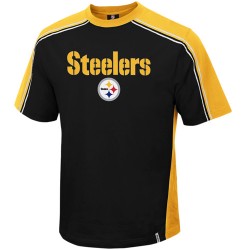 (If you enjoyed this article, please consider leaving a comment below. Also, please subscribe to our blog by pressing the orange button below. Thanks.)

Subscribe in a reader