The Steelers suffered their third consecutive loss last night, losing to the Baltimore Ravens 20-17.
Prior to the game, most of the comments that I received from Steelers fans expressed fear.  Most thought that with Dennis Dixon making his first NFL start, the Steelers had no hope of beating an opponent like the Baltimore Ravens.  In fact, I can't ever remember seeing such a prevalant sense of hopelessness among Steeler Nation.
As it turns out, Dixon played much better than most expected.  He was almost flawless in the first half, going 8-10 for 87 yards, with one TD and no interceptions.  His passer rating at the end of the first half was 136.2.
In the second half, things didn't go quite so well for Dixon.  The Ravens came out after half-time seemingly intent on flustering the young quarterback.  They started out with an array of blitzes that had Dixon rushing passes.  Then they transitioned into more of a zone defense that made it hard for Dixon to find open receivers.  Dixon ended up going 4-16 after the half.
But it wasn't Dixon who was most responsible for the Steelers loss.  No, that distinction goes to the defense……and the coaches.
The vaunted Steelers defense seemed to completely forget how to tackle.  On multiple occasions, a Baltimore runner seemed ready to be tackled by a Steelers defender, only to see the defender completely miss the tackle.  William Gay, Ryan Clark, and James Farrior had some very noticeable missed tackles.
As the season progresses, I'm noticing that William Gay is emerging as the weak link on the Steelers defense.  Teams even seem to be targeting him now.  He's not a sure tackler, and he is very vulnerable to double moves when in coverage.  Whenever the Steelers get beat for long pass plays, Gay and Ryan Clark always seem to be the defenders who are in the area.  Clark is the free safety, so I expect him to be in the area.  But Gay's presence is a too common occurrence.
The Steelers' special teams also turned in a poor performance.  But that has been a consistent theme this season, so it's almost not worth mentioning.  Almost.
But the real culpability in the loss probably belongs to the Steelers' coaches.  I don't consider myself to be a mind reader, yet I was able to predict almost every play that offensive coordinator Bruce Arians called.  If I was able to predict his calls, I'm sure the Ravens were able to do so as well.
Run, run, pass.  Run, run, pass.  Sound familiar?
Despite Dennis Dixon's mobility, they seldom utilized it.  When they did, he threw for a touchdown, ran for a touchdown, and had a 31 yard run called back due to holding.  So why didn't they put him in motion more often?  I understand that that they may not have wanted to subject Dixon to too many hits, since his backup had just been signed to the practice squad last week.  Nevertheless, there are "safe" ways to put a quarterback in motion.
They also didn't seem to be interested in involving Mewelde Moore in the passing game, despite the fact that dumping the ball to the running back is probably the best safety valve that they could have provided to a young quarterback.  But the Steelers dumped the ball to Moore a grand total of 0 times.  That's right, zero.  In fact, they only threw to their running backs twice during the entire game.   Moreover, the team seemed to be more interested in throwing the long pass than in attempting safer short passes.
I am not one of those people who is constantly calling for offensive coordinator Bruce Arians to be fired.  But I was very disappointed in his play calling in this game.
So the Steelers have dug themselves even deeper in the hole when it comes to the playoffs.  They are not mathematically eliminated, but things get tougher with each loss.
Ordinarily, I'd take great solace in the fact that the Steelers next two opponents are the Oakland Raiders and the Cleveland Browns.  But the way the Steelers have played lately, I'm not sure those are guaranteed wins.  In fact, if the Kansas City Chiefs game is any indication, we might actually lose one of those games.
Hopefully, some of the injured players like Troy Polamalu and Big Ben will be available to play soon.  But even with them, something tells me that the remainder of the season is going to be an emotional roller coaster for Steelers fans.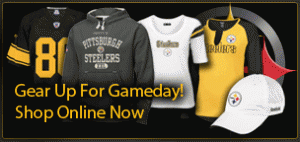 (If you enjoyed this article, please consider leaving a comment below. Also, please subscribe to our blog by pressing the orange button below. You can also follow us on Facebook or Twitter by clicking the doohickies at the bottom of the right column of this page.  Thanks.)

Subscribe in a reader