The Pittsburgh Steelers seem determined to get the old band back together again.  First they signed former Steelers Larry Foote and Antwaan Randle El.  Today, it was announced that the team has traded one of their 7th round picks in this year's NFL Draft to the Tampa Bay Buccaneers in exchange for former Steelers backup quarterback Byron Leftwich.
Leftwich was once the proven starter for the Jacksonville Jaguars before losing his starting job to David Garrard.  Since that time, Leftwich has longed to be a starter again.  His pursuit of that dream has taken him to the Atlanta Falcons, Pittsburgh Steelers, and Tampa Bay Buccaneers, since leaving the Jaguars.
Now, in a surprise move, the Steelers have traded for Leftwich.  Yet another former Steeler rejoins the team.
Leftwich was a very capable backup, and his presence will now open up a true competition for the backup quarterback role.  It is unclear which of the Steelers' backup quarterbacks, Dennis Dixon, Charlie Batch, or Byron Leftwich, will occupy the #2 and #3 positions.  Moreover, it gives even more options to serve as a possible temporary replacement for Ben Roethlisberger should he be suspended for a few games, as has widely been speculated.
Welcome back, Byron.  You always looked good in black and gold.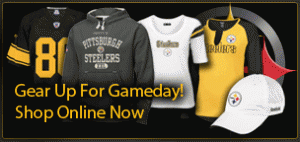 (If you enjoyed this article, please consider leaving a comment below. Also, please subscribe to our blog by pressing the orange button below. You can also follow us on Facebook or Twitter by clicking the doohickies at the bottom of the right column of this page.  Thanks.)

Subscribe in a reader