April 26, 2009
By Donald Starver
With their final pick in the 7th round, the Steelers selected David Johnson, tight end, Arkansas State.   Johnson stands 6'2″, and weighs 268 lbs.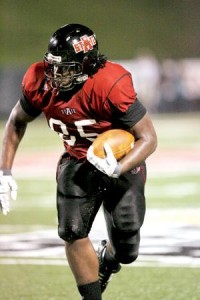 Johnson wasn't highly rated as a tight end.  Many teams probably didn't even have him on their draft board. 
Johnson had a career high of 22 receptions for 356 yards in 2008.  His 2008 reception total more than doubled his 2007 output of 10 catches (for 204 yards).  This performance earned Johnson second team All-Sun Belt conference honors.
Johnson was actually an H-back at Arkansas State, and this is probably what the Steelers found appealing about him.   He was used primarily as a blocker in college, though he has very good hands.   He averaged 16 yards per catch in college. 
Johnson runs a 4.7 second 40 yard dash.  That is pretty fast for a player of his size.  He also has a 32.5 inch vertical leap, and did 21 reps in the bench press at the NFL Combine.  He also played baseball in high school, and is an excellent athlete.
Johnson is probably a better athlete than the Steelers' current H-back Sean McHugh, and he should provide competition at the position.
To read about the Steelers' previous pick, click here.
(If you enjoyed this article, please consider leaving a comment below. Also, please subscribe to our blog by pressing the orange button below. Thanks.)

Subscribe in a reader