April 26, 2009
By Donald Starver
With their first pick in the 7th round, the Steelers selected A.Q. Shipley, center, Penn State.   Shipley stands 6'1″, and weighs 304 lbs.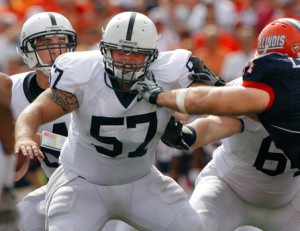 A natural leader, Shipley was the first center to serve as team captain since 1996.  He was the winner of the 2008 Rimington Trophy, given annually to college football's best center.  He was also named a 1st-team All-American.
A local boy from Moon Area High School, Shipley has been on the Steelers' radar for quite some time.
Shipley is an intelligent player who comes from a very high quality program at Penn State.  He has good vision and recognizes blitzes.  He has excellent technique and his physicality and tenacity are unmatched in this year's class of centers.  If anything holds Shipley back, it won't be his desire or effort.
Unfortunately, Shipley has physical limitations that caused some scouts to downgrade him as a potential NFL center.  He is short for the position, and has very short arms.  He also needs to increase his lower body strength.  He can be bull rushed by larger defenders and pushed into the pocket.  This may be an even greater liability in the AFC North, where huge nose tackles abound.
Shipley lacks mobility, and is unable to offer guards much help in run  blocking.  He also isn't a powerful blocker, and he struggles to generate movement by himself in the running game.
The bottom line is that Shipley is limited physically, but his heart, determination, and high football IQ should help him find a way to make an NFL roster.
To read about the Steelers' previous pick, click here.
To read about the Steelers' next pick, click here.
(If you enjoyed this article, please consider leaving a comment below. Also, please subscribe to our blog by pressing the orange button below. Thanks.)

Subscribe in a reader