After each game of the 2008 season, Steelers Today ran a haiku contest.  The idea was to see who could best capture the events of the game in the form of a haiku.
For those of you who are unfamiliar with haiku, it is a form of Japanese poetry. A proper haiku is a 3 line poem with 5 syllables in the first line, 7 syllables in the second line, and 5 syllables in the third line. Remember, that's "syllables", not "words".
I hadn't planned to bring back the weekly haiku contests this season.  The reason is that one of our readers named Patrick absolutely owned the competition.  He won every single week except for one.  And the only reason that he didn't win that week was because I awarded a victory to someone else in order to keep Patrick from getting a clean sweep for the season.
Despite my desire to keep my readers from being bludgeoned by Patrick this season, the haiku black belt has other ideas.  Patrick has thrown down the gauntlet by submitting 4 very good haiku entries, and challenging anyone to do better.  Here are Patrick's entries.
Haiku #1
Defense ruled the day
But when they need a clutch drive
Nobody beats Ben.
Haiku #2
Santonio Holmes
Exactly matching his stats
From the Super Bowl.
Haiku #3
Ward's shocking fumble
Brought back the Bettis miscue
Both games victories.
Haiku #4
Run game down, Troy out
Who will come to the rescue?
Ben Roethlisberger.
Wow, that's some mighty fine haiku.  All 4 are world class efforts.  But since I'm the judge, I think that #4 is the strongest of his 4 entries, so that is the one to beat.  (For the record, I love the reference to the Bettis fumble in #3.  Good work, Patrick).
Can anyone defeat this haiku samurai?  Give it a shot.  Capture the Steelers' win against the Titans in a haiku and knock Patrick off of his throne.
The winner will be announced later in the week. Good luck.
Other Steelers news:
The Steelers announced today that tight end Dezmond Sherrod has been cut from the Steelers' practice squad and replaced by tight end Kevin Brock.  Brock is  6'5″, 255 lbs.  He was originally signed by the Carolina Panthers as an undrafted free agent out of  Rutgers.  The Panthers released Brock in August, and he was signed by the New York Jets.  However, the Jets released Brock as they attempted reduce their roster to 53 players.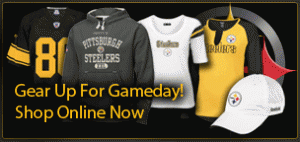 (If you enjoyed this article, please consider leaving a comment below. Also, please subscribe to our blog by pressing the orange button below. You can also follow us on Facebook or Twitter by clicking the doohickies at the bottom of the right column of this page.  Thanks.)

Subscribe in a reader