With the 20th pick in the fifth round (#151 overall) of the 2010 NFL Draft, the Pittsburgh Steelers select Chris Scott, OT from Tennessee.
At 6'5″, 330 lbs., this kid is big.  He was an offensive tackle at Tennessee, but showed a lot of position versatility, which is valued by Steelers head coach Mike Tomlin.  During his time at Tennessee, Scott has lined up at every position on the offensive line.  More importantly, playing in the SEC, he always faced top caliber competition.
Aside from being massive, Scott is very strong.  He has great upper body strength, and is able to control his man as a drive blocker.
At Tennessee last year, Scott was the starting left tackle.  However, he doesn't have the foot speed to play that position in the NFL.  But his experience playing all of the other positions at Tennessee will make him a viable candidate to compete at any other position along the offensive line.  In fact, his presence may allow the Steelers to move Maurkice Pouncey to the center position immediately, and let Scott, Ramon Foster, Kraig Urbick, Darnell Stapleton, and Trai Essex compete for the right guard position.
I believe that Scott's best position in the NFL is going to be guard.  He just doesn't have the foot speed to set the edge, particularly against speed rushers.  If he were to try to play tackle in the NFL, he would look more like a matador than a football player.  But his size will allow him to be a good drive blocker in the running game against most opponents.  He also has long arms, so those qualities translate well to the guard position.
He can handle most opponents one-on-one, and usually doesn't need help.  He had an exceptional game against Florida's Carlos Dunlap, who was a highly rated player coming out this year.
He has a dumpy looking body, and looks more fat than fit.  He only did 19 reps on the 225 lb. bench press at the NFL Scouting Combine.  He'll need to get in the weight room and improve his overall strength and conditioning.
Finally, he has had some weight problems during his career, and the Steelers' training staff are going to have to make sure that he keeps his weight under control.  Left unmonitored, he can easily balloon to 345 lbs.
Overall, this is a good pick for depth.  He probably won't play right away, but he is another massive body to compete for playing time on the Steelers offensive line.
To read about the Steelers' other picks, click the name below:
Thaddeus Gibson - DE, Ohio State
Stevenson Sylvester - LB, Utah
Jonathan Dwyer - RB, Georgia Tech
Antonio Brown - WR, Central Michigan
Doug Worthington - DT, Ohio State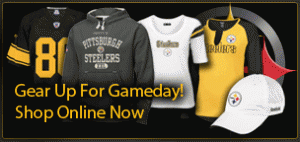 (If you enjoyed this article, please consider leaving a comment below. Also, please subscribe to our blog by pressing the orange button below. You can also follow us on Facebook or Twitter by clicking the doohickies at the bottom of the right column of this page.  Thanks.)

Subscribe in a reader