The Steelers now have one preseason game under their belts.  They also have one win, as they defeated the Detroit Lions 23-7.
The question that most fans were asking going into the game was "who will play quarterback?"  The answer was a bit of a surprise.  Ben Roethlisberger didn't play at all.  He was dressed for the game, but the coaches decided not to play him.  Byron Leftwich started the game.  And just like he has in training camp, he looked a bit rusty and inaccurate.  Dennis Dixon came in to replace Leftwich, and it is fair to say that it was Dixon who led the Steelers to victory.  And just like in training camp, Charlie Batch was left with a handful of meaningless snaps.
There were high points and low points in the game.  One of the low points was the running game.  This was particularly disturbing because it was obvious that the Steelers were trying to emphasize the run.  There's nothing more frustrating than making a concerted effort to do something, and failing at it.
The Steelers running backs seemed to be stuffed each time they tried to run the ball.  Rashard Mendenhall rushed 5 times for 2 yards.  Mewelde Moore rushed 1 time for 3 yards.  Justin Vincent rushed 1 time for 5 yards.  Jonathan Dwyer rushed 6 times for 8 yards.  The lone bright spot seemed to be Isaac Redman, who rushed 15 times for 60 yards and a touchdown.
But before you get too excited about Redman's performance, just remember that Redman was the rushing star of last year's preseason too.  He earned the nickname "Red Zone" because of his ability to get the ball in the endzone.  Yet, despite his effectiveness in the preseason, Frank Summers made the Steelers' final 53-man roster, and Redman was placed on the practice squad.  So I've learned to temper my excitement about players who perform well in the preseason.  Apparently, the Steelers coaches see things that we don't.  Or perhaps it's actually the other way around.  Perhaps they don't see what we do. 

The game was marred by a 1 hour and 13 minute delay due to rain and lightning.
But when the rain let up, it was Dennis Dixon who shined the brightest.  Dixon completed long passes to Arnaz Battle (51 yards) and Antonio Brown (68 yards).  The pass to Brown resulted in a Brown's first NFL touchdown.  Perhaps the connection to Brown was to be expected, since anyone who has been at Steelers Training Camp has probably noticed that Brown has emerged as Dennis Dixon's favorite target.
One disappointment was Flozell Adams.  Flozell has looked very good at training camp.  However, he looked a bit slow during last night's game.  He gave up an obvious sack on Byron Leftwich.  Adams was looking right at the rushing defender, and he even got his hands on him, but he still ran right past Adams as though he weren't even there.  Adams is going to have to do a lot better than that.  But overall, the Steelers quarterbacks were only sacked twice, so that's not so bad for a first outing.
Other bright spots included Rookie linebacker Stevenson Sylvester and Ryan Clark.  Sylvester seemed to be all over the field.  He led the team with 4 tackles and 3 assists.  Clark picked up an interception, something that the Steelers seemed unable to do last season.
Based on this game, I can already hear some Steelers fans calling for Dennis Dixon to be named the starter when the regular season starts.  I would caution them to temper their excitement.  There are still 3 more preseason games remaining.  Just as he played well this game, he could play terribly next game.  It is probably best to judge every player based on their body of work over all 4 preseason games, rather than rushing to judgment after only one game.
It's obvious that there are still things that the Steelers need to work on.  Despite the interception by Ryan Clark, the secondary got sliced to pieces by Matthew Stafford.  None of the cornerbacks looked like playmakers.  That is exactly what we saw last season.  So fans are going to want to see that change before the regular season starts.
The bottom line is that the Steelers got the win, and that is what really counts.  But the coaches are going to have some things to work on once they look at the film of the game.  But of course, that's exactly what the preseason is for.  Personally, I'm just ecstatic to see the Steelers on the field again.
Here we go Steelers, here we go!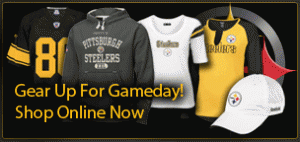 (If you enjoyed this article, please consider leaving a comment by clicking on the square at the top right of this article. Also, please subscribe to our blog by pressing the orange button below. You can also follow us on Twitter by clicking the bird doohicky below. Also consider following us on Facebook. Thanks.)

Subscribe in a reader