February 11, 2009
By Donald Starver
Note: This is the third installment in a three-part series.  If you haven't already read the first part, please click here.  If you haven't read the second part, please click here.

The toughest decisions that Kevin Colbert will make this offseason will have nothing to do with this year's free agents.  Instead, the hardest decisions that he will have to make will pertain to the players that will be free agents next year.
The Steelers have quite a few key players who have only one year remaining on their contracts.  So next year, all of them will be free to test the open market (and potentially leave) unless the Steelers lock them up now by extending their contracts.  This has typically been how the Steelers have managed situations with players that they want to keep.  However, I can't ever remember this many key players' contracts ending at the same time.
The players with one year remaining on their contracts include James Harrison, Hines Ward, Heath Miller, Ryan Clark, Deshea Townsend, Brett Keisel, Casey Hampton, Larry Foote, Justin Hartwig, and Jeff Reed.  Every one of those players was a key contributor to the Steelers' Super Bowl season.  In an ideal world, the Steelers would probably want to keep every one of them.  But this is not an ideal world.  This is the world of free agency, where players' are basically available to the highest bidder.
The first priority will be two-time Steelers MVP, and NFL Defensive Player of the Year, James Harrison.  Harrison has proven himself to be a more-than-capable replacement for Joey Porter.  We all thought that Harrison would be good, but nobody expected him to be this good.
Silverback has been one of the best values in the NFL over the past 2 years.  He earned $1.1 million in 2007, and $1.2 million in 2008.  Compare that to the $6.8 million that the Steelers paid Max Starks.
Harrison's agent knows that if his client is ever going to get a big payday, this is the time to do it.  Harrison will be 31 years old when next season begins, so this will be his last big contract.  Several factors will be working against the Steelers.  Firstly, Harrison will probably feel that the Steelers need to repay him for working so cheaply for the past two years.  Afterall, how many NFL teams' MVP makes just over $1 million per year?  Oh yeah, and he made the Pro Bowl both of those years.  James Harrison has been a steal, and the Steelers know it.
Harrison's predecessor, Joey Porter, will also play a role his negotiation with the Steelers.  Harrison knows that Porter got a 5 year, $32 million dollar deal with $12 million guaranteed.  The first defensive player drafted in last year's draft, Chris Long, got a 6 year, $56.5 million dollar deal with $29 million guaranteed, and he had never even played a down in the NFL, much less won the DPOY award.
Lastly, this year's defensive free agents Terrell Suggs, DeMarcus Ware, and Albert Haynesworth will play a key role in setting the market price for top defensive talent.  I'm sure the Steelers wish those guys weren't hitting the free market at the same time that they are trying to extend Harrison.
Last year, the Vikings gave free agent defensive end Jared Allen a six year deal at $12.2 million per year, with $32 million guaranteed.  Harrison is not a defensive end, but I'm sure his agent will be quoting those numbers early and often.
Suffice it to say that James Harrison is going to feel like a Powerball winner when this thing is done.  I won't attempt to guess what the figures on Harrison's contract will be, but I know that I wouldn't want to be Kevin Colbert right now.
Obviously, every penny that the Steelers spend on James Harrison is a penny that they can't spend on their other players that need to be extended.
In my opinion, the next guy the Steelers should focus on is Hines Ward.  Sure, Hines will be 51 at the beginning of next season (actually he'll be 33).  But he still has some good years left in him.  Hines is definitely one of the leaders in the Steelers clubhouse.  This year was his best season since 2003.  He had 81 receptions and over 1,000 yards.  But Hines isn't just about statistics.  Possibly more than any other player, Hines Ward embodies the Steelers toughness.  Hines Ward was born to be a Steeler.
Despite his advancing age, Ward is not likely to see his skills decline like some players do.  The reason for this is that Hines Ward has never relied on physical gifts to succeed in the NFL.  Hines Ward is short, he's slow, and he can't jump.  But he compensates for that by being fearless, running great routes, and having hands like a black hole (nothing ever escapes them).  These are traits that don't diminish with time.
The Steelers will probably offer Ward an opportunity to end his career with the team if he takes a reduced salary.  They may have to give him a year or two more on his contract than they'd like to, but I think the Steelers can get Ward to agree to a deal that will keep him in Pittsburgh until he retires.
Next up is Heath Miller.  In my opinion, Heath Miller is one of the best (and most under-utilized) tight ends in the NFL.  After Hines Ward, Miller is Big Ben's most reliable target.  In the red zone, he may be at the top of that list.  The Steelers have to keep him.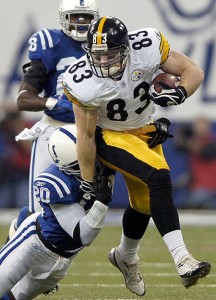 Everyone knows that Bruce Arians is obsessed with tight ends.  If he could run an 11 tight end offense, I think he'd do it.  Heath Miller is Arians' best tight end.  So Miller is probably assured of getting his contract extended.
In my opinion, the first salary cap casualty among this list will be Casey Hampton.  "Big Snack" just isn't the dominant player that he once was.    He's only 31 years old, but Hampton seems to be aging in dog years.
Did anyone notice any drop off in production when Chris Hoke came into the game for Hampton this year?  Neither did I.  Sorry Hamp, but you won't be seeing another contract from the Steelers.
Brett Keisel presents a bit of a dilemma for the team.  He hasn't played great, but he has played well enough that the Steelers can't afford to lose him.  We just speculated that Casey Hampton will be leaving after his contract is over.  Fellow defensive lineman Aaron Smith is also probably playing out his final contract as well.  With that in mind, the Steelers probably need to maintain continuity by keeping the youngest member of their front 3, Brett Keisel.
To be clear, Keisel is not a kid himself.  He's 30 years old.  But Hampton and Smith are older, so that will benefit Keisel.  We've seen what too many changes have done to the Steelers' offensive line.  They can't allow their defensive line to suffer a similar fate.  So Keisel may get extended by default.  Lucky guy.
I never realized just how important Ryan Clark was to the Steelers until he had spleen and gall bladder problems last year.  Anthony Smith started in place of Clark and proved Ryan Clark's true value.  If that weren't enough to cement a spot on the team for Clark, his hits on Wes Welker and Willis McGahee surely earned him an extension.  Pay the man, Mr. Colbert.  PLEASE pay the man.
Justin Hartwig was a big improvement over Sean Mahan (which wasn't hard to do).  However, his play has not been stellar.  If the Steelers take center Max Unger from Oregon or center Alex Mack from California in the upcoming NFL draft, then Hartwig won't even be starting next year.
Hartwig's presence probably saved Ben Roethlisberger from getting an additional 5-10 sacks that he would have gotten had Sean Mahan still been the Steelers' starting center.  For that, Big Ben will forever be grateful.  However, the Steelers have a history of having Pro Bowl caliber centers like Mike Webster, Dermonti Dawson, and Jeff Hartings.  Harwig just isn't in that category, nor will he ever be.  Both Mack and Unger have the potential to be.
Even if they don't take a center early in this year's draft, I think it is doubtful that the Steelers will extend Justin Hartwig's contract during the offseason.  It is much more probable that they will maintain Hartwig as the starter through next season, and then let him leave when his contract expires.
Deshea Townsend is already 33 years old.  He'll be 34 when his current contract expires.  The Steelers have gotten some great years out of Townsend.  Townsend was never super fast, he's not particularly tall, and he doesn't hit like a freight train.  But he's always gotten all that he could out of his abilities.  He has made up for his physical shortcomings by being a smart player who understands Dick LeBeau's defense.  In fact, I've always viewed him as a player that the Steelers could convert to safety to extend his career a bit if they wanted to.  He is the type of smart, dependable defensive backfield player that Anthony Smith needs to become.  But despite this potential, the Steelers will not have a 35 year old defensive back on their team.  So this is Townsend's last contract.  Thanks for your service over all of these years, Deshea.  Unfortunately, time catches up to all of us eventually.
Larry Foote is an interesting situation.  He is the least talented of the Steelers' four starting linebackers.  Moreover, he has physical freak and former #1 draft pick Lawrence Timmons breathing down his neck for playing time.  Timmons got so much playing time this year that he may as well have been a starter.  He actually had more tackles and more sacks than Foote, despite not being a starter.
Foote has been a solid, but not spectacular starter for the Steelers.  He knows Dick LeBeau's defense.  Moreover, he will only be 29 years old when his contract expires.  That's younger than all of the players that we've just discussed are RIGHT NOW except for Heath Miller.  So age is not really a problem for Foote.  His problem is Timmons.
Foote will not be able to hold off Timmons next year.  That's for sure.  But he could still be a very valuable backup player.  If the Steelers could keep him at a reasonable price, they would probably be wise to do so.  Foote is not important enough to extend this offseason.  So you probably won't be hearing his name in any press releases in the coming months.  Nevertheless, if Foote wants to remain a Steeler (at a reduced price, of course) when his contract ends, I think that is something that the Steelers should consider.
Lastly, we have Jeff Reed.  Reed is an interesting character.  He is probably the Steelers' player who is most likely to get in a bar fight, get an under-aged girl pregnant, or get arrested for a DUI.  Reed is a wild and crazy guy.  But he's OUR wild and crazy guy.  More importantly, he's one of the best kickers in the NFL.  How many other kickers could be as successful playing in muddy, windy Heinz Field?  Not many.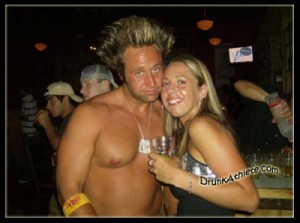 As strange as this may sound, Reed may be one of the most important players for the Steelers to keep.  Give this guy an extension before he discovers that they have much better bars in Miami.
(If you enjoyed this article, please consider leaving a comment below. Also, please subscribe to our blog by pressing the orange button below. Thanks.)

Subscribe in a reader