The Steelers have locked up yet another player to a new long-term deal.  This time, it was defensive end Brett Keisel who was the recipient of the new 5-year contract.
Earlier this year, the Steelers signed Heath Miller, James Harrison, and Hines Ward.
Keisel was in the last year of his deal, and was set to become a free agent at the end of the season.  However, the steelers seem to be intent upon keeping the core of the current team together.
Financial details of Keisel's deal were not released.
Other Steelers news:
Offensive guard/center Darnell Stapleton was placed on injured reserve and will miss the rest of the season.  Stapleton underwent surgery in early August, but his knee has not responded as expected.
In an effort to get down to Tuesday's 75-man roster requirement, the steelers released Martin Nance, Steven Black, Derrick Richardson, and Alex Stepanovich.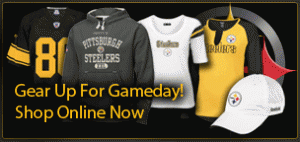 (If you enjoyed this article, please consider leaving a comment below. Also, please subscribe to our blog by pressing the orange button below. You can also follow us on Facebook or Twitter by clicking the doohickies at the bottom of the right column of this page.  Thanks.)

Subscribe in a reader