July 29, 2009
By Donald Starver
This is Part 4 in a series.  If you haven't read the previous installments, please click below:
The final defensive position to look at is cornerback.
If we look at Mike Tomlin's history as head coach, we see that he has always come out of training camp with 6 cornerbacks on the roster.  Five of those cornerbacks were usually worked into the actual defensive rotation, while  one was kept strictly as a special teams player.
In 2007, Allen Rossum was listed as a cornerback, but he never actually lined up at the position.  He was exclusively a return man on special teams.  In 2008, Anthony Madison played a similar role.  While he didn't return punts or kickoffs, he was nevertheless relegated to special teams play only.
With that in mind, let's assume that the Steelers will come out of this year's training camp with 6 cornerbacks, one of whom will be primarily a special teams player.
Now that we've established that, let's take a look at the candidates and determine who is likely to make the 53-man roster.
Ike Taylor - I absolutely love Ike Taylor.  I think he is possibly the most under-rated cornerback in the entire NFL.  Every week he has to face the opposition's #1 receiver, and yet how often does he get burned?  Not very.
Last season Ike had to go against Terrell Owens, Randy Moss, Plaxico Burress, Chad Johnson, Andre Johnson, Braylon Edwards, and Larry Fitzgerald.  None of those receivers came out on the winning side of that match-up.  Ike just doesn't get beat.  Period.
The only reason that Ike isn't a multi-time Pro Bowler is that Ike's hands have a permanent coating of the world's most powerful lubricant.  Ike just can't catch.  And unfortunately, cornerbacks tend to be judged based on their interceptions, not their passes defensed.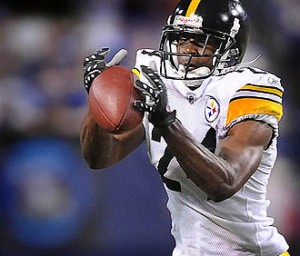 I guess Ike will just have to be satisfied collecting Super Bowl rings rather than Pro Bowl appearances.
That's my long-winded way of saying that Ike is going to make the team.
William Gay - Bryant McFadden departed after the Super Bowl to play for the Steelers West.  However, the impact of his departure will barely be felt due to the presence of William Gay. Gay was already splitting time with McFadden, so replacing him full-time should be relatively easy.
Gay's place on the roster is assured.  Nevertheless, I still haven't forgiven him for wearing Arizona Cardinals colors and a NY Yankees cap to the Steelers' Super Bowl victory parade.  What was up with that?
Deshea Townsend - If memory serves me correctly, when Deshea Townsend joined the Steelers, Mel Blount, Donnie Shell, and J.T. Thomas were still on the team.  I could be wrong, but it certainly seems like he has been on the team that long.
Now 34 years old, and in his 12th year in the NFL, Townsend is almost guaranteed to emerge from training camp as no worse than the #4 cornerback on the roster.
If Townsend were to learn to play the free safety position, he could make himself even more valuable to the Steelers and extend his career even more.  I've always said that Deshea's skills were perfect for playing free safety.
Keenan Lewis - The third round pick out of Oregon State is almost a mirror image of Ike Taylor.  While he doesn't have Taylor's superhuman athleticism,  he does have his long, lean build.
Lewis' skills are going to need honing, but with wide receivers getting bigger and bigger, his size is a valuable asset.  If he can show a grasp of Dick LeBeau's playbook, and prove that he is a willing participant in run support, he should be able to snag a spot on the roster.
Keiwan Ratliff - Ratliff was signed this off-season as a free agent from the Indianapolis Colts.  Ratliff brings experience to a team that can use another dependable veteran in the defensive backfield.
While Ratliff has return skills, I believe that Joe Burnett, Mike Wallace, and Stefan Logans are going to be given first crack at winning the return positions.  Thus, Ratliff is going to have to make the team based purely on his skills as a cornerback.  I'm betting that he is going to do exactly that.
Roy Lewis - After spending 2008 on the practice squad, Lewis should be ready to compete for a roster spot in 2009.  Unfortunately, I don't believe that his knowledge of the Steelers' playbook is going to be enough to offset his height disadvantage versus Keenan Lewis, his experience disadvantage versus Keiwan Ratliff, or the return capabilities of Joe Burnett.  Sorry Roy.  It was nice knowing you.
Anthony Madison - Madison always enters Steelers training camp as an underdog.  Yet somehow he always seems to stick around.  He will enter training camp as an underdog again this year.  Unfortunately, I don't think he is going to be able to hold off newcomer Keiwan Ratliff.  Ratliff is bigger and more experienced than Madison.
Madison has been used almost exclusively on special teams.  That was fine, because Coach Tomlin always carries a cornerback on the roster exclusively for special teams.  However, this year that position is going to go to……..
Joe Burnett - The fifth round pick out of Central Florida is going to be the 6th cornerback on the Steelers' 2009 roster.  Burnett is an absolutely electrifying punt returner.  He will add a dimension to the Steelers' return game that has been missing for a very long time.
While Burnett's greatest impact will be as a punt returner, he can also return kicks, and has surprisingly good ball skills as a cornerback.  He is UCF's all-time leader in interceptions.  He is not as physical as the Steelers like their cornerbacks to be, but once he gets sees the priority that Dick LeBeau places on run support, he will have to become more physical.
So there you have it.  I believe that Ike Taylor, William Gay, Keiwan Ratliff, Deshea Townsend, and Keenan Lewis will be the Steelers 5 cornerbacks, and Joe Burnett will earn the 6th position as a punt returner.
So what do you fans think?  Agree?  Disagree?  Your comments are welcome.  Tell me what you agree with or where you think the flaws in my argument are.  Who do you think will be the Steelers' 6 cornerbacks coming out of training camp?
(If you enjoyed this article, please consider leaving a comment below. Also, please subscribe to our blog by pressing the orange button below. Thanks.)

Subscribe in a reader