Steelers Today has hooked up with 31 other NFL bloggers from around the country to do a bloggers' mock draft.  All 32 NFL teams are represented in the mock draft.
For more details on the bloggers' mock draft, click here.
With the third pick of the 2009 NFL draft, Kansas City Chiefs blogger  KC Chiefs News selects:
Aaron Curry, OLB, Wake Forest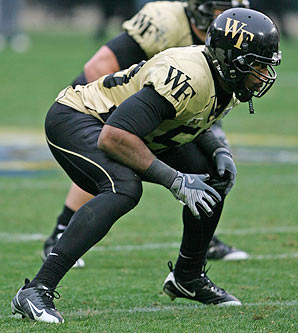 Having addressed their quarterback need in the Matt Cassel trade, look for the Chiefs to address the other side of the ball with the third overall pick.  Todd Haley could be tempted to draft a wide receiver (Crabtree) given his coaching history but Linebacker remains their most pressing need on defense, besides defensive end.  This being a weak draft for defensive end, linebacker Aaron Curry is the most logical pick for the chiefs.
The chiefs have declined to re-sign starting linebackers Rocky Boiman and Pat Thomas and have released veteran Donnie Edwards making them somewhat thin at the position.  They have traded for Mike Vrabel, which would obviously be a great mentor for the young Curry.
The Wake Forest product is an absolute must if the Chiefs plan to move to a 3-4 defense, Curry on one side and Derrick Johnson on the other would provide the necessary pass rushing personnel for a team that set the record for the least amount of sacks in a season.
So far, the draft has gone as follows:
1. Detroit Lions:  Mathew Stafford, QB (Georgia)
2. St. Louis Rams: Eugene Monroe, OT (Virginia)
3. Kansas City Chiefs: Aaron Curry, LB (Wake Forest)
The Seattle Seahawks are on the clock.
(If you enjoyed this article, please consider leaving a comment below. Also, please subscribe to our blog by pressing the orange button below. Thanks.)

Subscribe in a reader