Steelers Today has hooked up with 31 other NFL bloggers from around the country to do a bloggers' mock draft.  All 32 NFL teams are represented in the mock draft.
For more details on the bloggers' mock draft, click here.
With the second pick of the 2009 NFL Draft Among Blogs, the St. Louis Rams select:
Eugene Monroe, OT, Virginia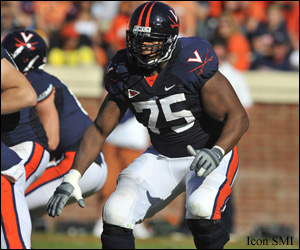 According to DraftCountdown.com:
It's common knowledge that the Rams have been aching to address their offensive line for a while now and unlike last year, when Jake Long was selected one pick ahead of them, they should have no trouble landing a top blocker in the 2009 NFL Draft.
Orlando Pace has been one of the best in the business for more than a decade but he is now in his mid-30′s and injuries have really begun to take their toll. On the other side, former first round pick Alex Barron continues to disappoint and the Rams  would like nothing more than to bring in a capable replacement.
Eugene Monroe might not be as flashy as some of the other top offensive tackles in this draft but he has a very good chance to be the first blocker off the board. Not only is Monroe a terrific all-around player who can be effective as both a pass and run blocker but he is also a much safer choice than a guy like Andre Smith because there are no concerns about his size, position or character. Monroe may not have as much upside as Andre Smith or Jason Smith but his floor is a lot higher and that's a good thing when you're talking about giving a guy $30 million in guaranteed money.
Don't discount the value of program pedigree either and Monroe is following in the footsteps of former Cavaliers D'Brickashaw Ferguson and Branden Albert, who have both handled the transition to the next level well.
So far, the draft has gone as follows:
1. Detroit Lions:  Mathew Stafford, QB (Georgia)
2. St. Louis Rams: Eugene Monroe, OT (Virginia)
The Kansas City Chiefs are on the clock.
(If you enjoyed this article, please consider leaving a comment below. Also, please subscribe to our blog by pressing the orange button below. Thanks.)

Subscribe in a reader