Steelers Today has hooked up with 31 other NFL bloggers from around the country to do a bloggers' mock draft.  All 32 NFL teams are represented in the mock draft.
For more details on the bloggers' mock draft, click here.
With the fourth pick of the 2009 NFL Draft, the Seattle Seahawks blog Dave Krieg's Strike Beard selects:
Michael Crabtree, WR, Texas Tech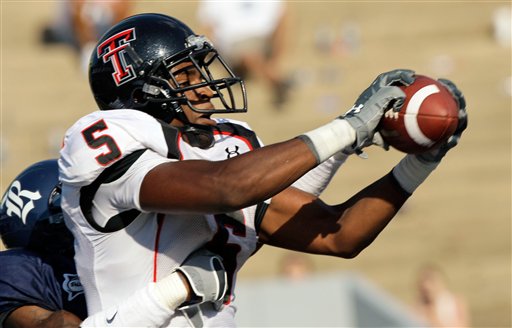 Even after addressing our desperate need at WR by signing
T.J. Houshmandzadeh, Seattle will select the best player available: The
game-breaking Crabtree.
As an NFC West fan, I get to watch Larry Fitzgerald torch my Seahawks
twice a year. In 2008, I got the added bonus of watching Fitz almost carry
Arizona to a World Championship. Housh isn't Fitz. Neither is Branch or
Burleson… Hell, even Steve Largent wasn't the dominant big-play threat
that Fitzgerald is right now.
Even with his foot surgery, and even after being revealed as 6'1″ instead
of 6'3″, drafting Crabtree is the best shot the Seahawks will have over
the next few years to get "their Fitzgerald."
Selecting Crabtree isn't just a "build for the future" move, either. With
Housh across from him, a (hopefully) healthy Branch in the slot, budding
Pro-Bowler John Carlson at TE, and Matt Hasselbeck throwing the ball,
Crabtree could make an immediate impact as Seattle's "home run" threat.
The Seahawks aim to return to the top of the NFC West in 2009. Michael
Crabtree is the player most likely to help make that happen in this year's
draft class.
So far, the draft has gone as follows:
1. Detroit Lions:  Mathew Stafford, QB (Georgia)
2. St. Louis Rams: Eugene Monroe, OT (Virginia)
3. Kansas City Chiefs: Aaron Curry, LB (Wake Forest)
4. Seattle Seahawks: Michael Crabtree, WR (Texas Tech)
The Cleveland Browns are on the clock.
(If you enjoyed this article, please consider leaving a comment below. Also, please subscribe to our blog by pressing the orange button below. Thanks.)

Subscribe in a reader