July 31, 2009
By Donald Starver
This is Part 5 in a series.  If you haven't read the previous installments, please click below:
Now That we've finished discussing the defense, it's time to turn our attenti0n to the offense.  The first position that we are going to preview is quarterback.
Most Steelers fans are aware that the team always carries 3 quarterbacks on the roster.  2009 will be no different.
Let's look at the quarterbacks who will battle to make the Steelers' 2009 roster.
Ben Roethlisberger - In his first 5 years in the NFL, Ben Roethlisberger has quarterbacked the Steelers to 2 Super Bowl championships.  That means he has delivered championships 40% of the time.  If he continues at that pace, and has a 10-15 year career, is is guaranteed to be make the NFL Hall of Fame.  Moreover, he will surpass Terry Bradshaw as the greatest Steelers quarterback of all time.
The Steelers acknowledged Big Ben's potential in 2008 when they signed him to an 8-year extension that will pay him $102 billion (or was that $102 million?  I'm not sure, but I know it was a lot).
Big Ben has now entered the rarefied air previously reserved for Tom Brady and Peyton Manning.  He is an elite franchise quarterback that teams have to game plan for.  Moreover, in 2008 he was the single highest paid player in the NFL.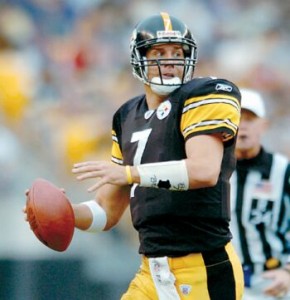 Big Ben is going to be the Steelers' starting quarterback for a long time, provided he stays healthy (and his health is not a given, considering how often he gets sacked).  Is there really any question whether Ben will make the roster and be the starter in 2009?  I thought not.
Andrea McNulty is far more likely to knock Ben out of his starting job than Charlie Batch or Dennis Dixon are.
Charlie Batch - The Steelers have enjoyed having the dependable Batch waiting in the wings for a long time now.  Batch is an experienced, dependable veteran who is not likely to lose the game for the team if called upon to play.
Perhaps Batch's most important characteristic is his apparent comfort with the idea of being a back-up.  This characteristic is what was missing in Byron Leftwich, and is the reason why Leftwich is not with the Steelers today.  Leftwich saw himself as a starter.  He was never going to be comfortable with being relegated to a backup role.  Charlie Batch has no such problem.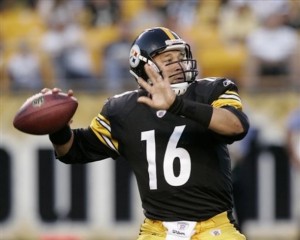 Both fans and coaches are extremely comfortable with Charlie Batch.  That is why most fans have already penciled Batch in as the #2 quarterback in 2009.  I am not so quick to anoint Batch to the #2 spot.  While Batch is admittedly competent and dependable, he has a few glaring flaws.
Batch will be 35 years old this season.  His best days are clearly behind him.
Batch has a career QB rating of only 77.9.  While he probably won't lose many games for the Steelers, he also can't be expected to carry the team on his back and win many games either.
Batch has a history of injuries.  This was most recently evident in 2008 when he missed most of the season with a shoulder injury.
Rather than hand the #2 quarterback role to Batch, I'd much rather see another player win the spot in training camp.  That player is……..
Dennis Dixon -  Prior to injuring his ACL during his last year in college, Dennis Dixon was leading Oregon to a potential national championship.  Moreover, he was the front-runner for the Heisman trophy.  The kid was a star, and NFL scouts were drooling over him.
I read many of the Steelers websites and forums, and there is a piece of false information that I find repeated over and over again.  Many fans say that "Dennis Dixon is just an athlete who would rather run than throw the ball.  He is just another Michael Vick or Vince Young".  Sure, all three are black quarterbacks, and all three are athletic, but the comparisons end there.
Dennis Dixon was an accomplished quarterback at Oregon.  He has a powerful arm, and can make all of the throws.  In fact, prior to his injury, he was viewed as a better prospect than last years' NFL freshmen sensations Matt Ryan and Joe Flacco.
All three quarterbacks came out of college the same year.  That year, Dennis Dixon had a QB rating of 161.19.  Joe Flacco's QB rating was 144.91, and Matt Ryan's was 127.04.  Advantage: Dixon.
Dennis Dixon's pass completion percentage was 67.7%.  Joe Flacco's was 63.5%, and Matt Ryan's was 59.3%.  Advantage: Dixon.
Dennis Dixon threw 4 interceptions.  Joe Flacco threw 5, and Matt Ryan threw a whopping 19.  Advantage: Dixon.
Most impressive of all, Dixon averaged 8.4 yards per pass.  Joe Flacco averaged 8.2, and Matt Ryan averaged 6.9.  So not only was Dixon a more accurate passer than Flacco or Ryan, but he also tended to make longer passes than them.   Advantage:  Dixon.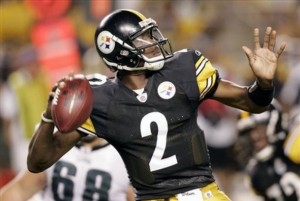 Both Flacco and Ryan did very well in their first year in the NFL.  So why are Steelers fans so concerned that Dixon is only going to be useful as a wildcat quarterback?  Moreover, why have some Steelers fans called for Dixon to be placed in a "slash" role and to only be used for gimmick plays?  I've even heard Steelers fans suggest that Dixon be converted to a wide receiver.  Dixon has never played receiver.  Why try to turn him into one?
I don't want to offend any readers, but many of the comments that I have read about Dixon verge on being racist stereotypes.
Dennis Dixon is NOT an athlete pretending to be a quarterback.  He is an accomplished quarterback who needs to learn the Steelers playbook so he can show fans and coaches just what he is capable of doing.
Dennis Dixon is younger than Charlie Batch, taller than Charlie Batch, faster than Charlie Batch, and he has a stronger arm than Charlie Batch.  If he can master the playbook, I believe he will emerge from Steelers training camp as the #2 quarterback.
Mike Reilly - After redshirting his freshman year at Washington State, Reilly transferred to Central Washington.  He ended his career at Central Washington as the third leading passer in Division II history with 12,448 passing yards.
Reilly impressed scouts with his confidence at the NFL Scouting Combine, but many were turned off by the lack of arm strength that he displayed at the East-West Shrine Game.
Reilly is a gutsy player who has to be commended for making it to an NFL training camp from a Division II school.  However, making the roster of the reigning NFL champions may be too much to ask of him.
If he plays reasonably well in camp, Reilly is likely to be placed on the practice squad.
(If you enjoyed this article, please consider leaving a comment below. Also, please subscribe to our blog by pressing the orange button below. Thanks.)

Subscribe in a reader