August 12, 2009
By John DeWald
Editor's note:  Prior to training camp, we started a series previewing all of the positions.  Our goal was to make fans familiar with all of the players who would be competing at training camp, and to give our best guess at who would actually make the 53-man roster.  Unfortunately, we did not complete the series prior to the start of training camp like we had originally intended.  We have decided to complete the series anyway.  We hope that it will make fans more familiar with some of the names that you will hear us mention in our regular training camp updates.
Also, please note that this installment is being written by John DeWald.  John is one of our regular readers who alway impressed me with the quality of the comments that he left.  I wanted to share his insight with my readers,  so I asked him to co-write this series with me.  See what happens when you leave quality comments?  Hint, hint.
This is Part 6 in a series.  If you haven't read the previous installments, please click below:
Last season the Steelers carried 3 running backs and a single fullback on the active roster (and kept 1 back on the practice squad). The incumbents are Willie Parker, Rashard Mendenhall, Mewelde Moore, and Carey Davis.
Early in the 2008 season, Mendenhall was placed on IR (compliments of Ray Lewis) and Gary Russell was activated from the practice squad. Russell is gone but the rest of them are still on the team along with four new backs. So, unless someone really shines on special teams (and is kept primarily for that purpose) we are looking at 8 players fighting for 4 spots on the 53-man roster.
The Steelers appear to be in very good shape with the top 3 RB's returning.  Of course, as we found out last year, injuries can change that outlook very quickly.  So let's take a look at the running backs who will be competing at Steelers training camp.
Willie Parker - Parker is a good (although limited) back with blazing speed and good vision but mediocre elusiveness (he's not going to make people miss unless he can run away from them).  He's also not much of a pass catcher.  Parker had an off year last season due to injuries and an inconsistent line.  He expanded his off-season training regimen to try to avoid injuries this year.  This is a contract year for Parker and he is playing with a chip on his shoulder so expect him to put everything on the line to earn a new contract.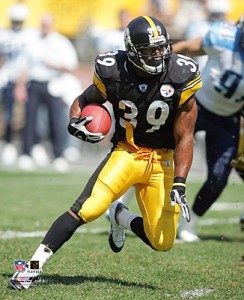 Rashard Mendenhall- Behind Parker is last year's #1 pick.  Mendenhall is a more complete back than Parker but is very inexperienced after logging only 19 carries last year.  The Steelers are very high on him and would like to see him shoulder a significant amount of the load to keep both he and Parker fresh for the postseason.  Not to mention, to give them an idea of whether to give Parker a contract extension.
Mewelde Moore- Moore was signed last season as a 3rd down back/return specialist.  Proving that you can never have too many good backs, he logged some heroic performances filling in for the injured Parker and Mendenhall.  Over his 4 starts he carried 80 times for 360 Yards (4.5 YPC) and had 16 receptions for 89 yards.  He is a much better pass catcher than the other RB's, logging 40 receptions last year (tied for 5th on the team).  His return game was not nearly as impressive but at least he was sure handed.
Parker, Mendenhall, and Moore are all locks to make the team.
Carey Davis- Unlike the other returning backs, Davis should probably brush off his resume.  Davis began last year as the starting FB until it was discovered that Sean McHugh (the 3rd TE) was actually a better blocker.  Given the de-emphasis of the FB in Bruce Arians' offense, the competition from H-Back/TE players such as McHugh and Johnson, and the intriguing abilities of Summers and Logan, Davis will have an uphill battle to keep his job.  This year the hill will prove too steep.
Those fighting for Davis's spot:
Frank "The Tank" Summers -  The Steelers' second 5th round pick is quickly becoming a fan favorite before ever playing a down in the NFL.  The Steelers have been noticeably weak in short yardage situations over the past few years and, given his size, many fans are having visions of the "Tank" being the first effective replacement to "the Bus".  Needless to say, this will be easier said than done.  Bettis was a unique talent with rare size and agility.  Frank has a lot of upside but, coming from a spread offense, it will take time for him to transition to the NFL.  Lucky for him, the Steelers will not ask him to be anything other than a short yardage back this year - anything else will just be a bonus.  Barring a horrendous camp, Frank is the front runner to take Davis's spot.
Stefan "The Yugo" Logan- OK, the "Yugo" comment isn't really fair but this guy is SMALL (5'7 and 185 - and that might be stretching it).  Logan, however, offers some intriguing capabilities.  While lacking the size of Mendenhall and Summers or the speed of Parker, he has great agility and elusiveness.
Logan walked on at South Dakota in 2003.  Four years later, he was the best running back in school history with 15 school records to his credit.  He was the 11th player in Division II history to rush for 5,000 yards (5,968) and surpass 7,000 all purpose yards (7,770).  In his first and only year in the CFL he registered 122 carries for 889 yards (an awesome 7.3 YPC) and had 52 receptions for 477 yards.  He was 6th in the league in combined yards from scrimmage as well as having a 10.5 average on punt returns and nearly a 30 yard average on kick returns.  He is a good receiver, returns punts and kicks, and could be Pittsburgh's version of Darren Sproles (who is only listed at 5'6 and 185).  Logan has a good chance to make the team but it will be determined almost entirely by his special teams play.
Justin Vincent - Justin Vincent, a 4 year player at LSU, was first signed to the practice squad by Pittsburgh in 2007.  He faced stiff competition for playing time at LSU and never really distinguished himself.  He has spent parts of the last 2 years on the Steelers' practice squad and has never been elevated to the active roster.  In all likelihood, unless he sets training camp on fire, he is only competing for a place on the practice squad.
Isaac Redman- Redman was signed this year as an undrafted free agent. He ended his college career (Bowie State) as the school's All-Time leading rusher with 3,300 yards and holds the school's single season rushing (1,512) record.  He has good size (230 lbs) and good overall skills, but is understandably a bit raw having played in Division II.  Given his upside, I predict that he beats out Vincent for a spot on the practice squad.
So, in summary, Parker, Mendenhall, Moore, and Summers are in. Logan is a possibility as a return specialist. Redman makes the practice squad and Davis and Vincent are out.  Agree?  Disagree?  Your comments are welcome.
Today's Featured Item:  Reebok Pittsburgh Steelers Hoody Sweat Jacket

Buy the best Steelers gear right here at Steelers Today.  We search for the coolest Steelers gear that we can find, and then we present it to our fellow Steelers fans.  Check out this Steelers hoody.  It even has the Steelers logo on only one side just like the Steelers helmet.  Is that cool or what?  Click below to purchase.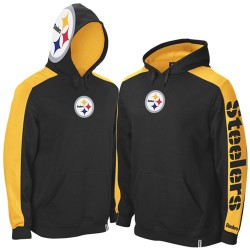 Click here to buy
 (If you enjoyed this article, please consider leaving a comment below. Also, please subscribe to our blog by pressing the orange button below. Thanks.)

Subscribe in a reader