This is Part 3 of our 9-part Super Bowl XLV Preview series.  In this installment, we're going to take a look at the offensive lines of the two teams.
To read the other parts of this series, click the appropriate link below:
Part 1:  Super Bowl XLV Preview -  Team overviews
Part 2:  Super Bowl XLV Preview - The quarterbacks
Part 3:  Super Bowl XLV Preview - The Offensive Lines
Part 4:  Super Bowl XLV Preview - The Receivers
Part 5:  Super Bowl XLV Preview - The Running Backs
Part 6:  Super Bowl XLV Preview - The Defensive Lines
Part 7:  Super Bowl XLV Preview - The Linebackers
Part 8:  Super Bowl XLV Preview - The Defensive Backs
Part 9:  Super Bowl XLV Preview - Putting it all together
The offensive line isn't a tremendous strength for either team.  Green Bay's offensive line gave up 51  sacks in 2009 and had nowhere to go but up.  They decreased that number to 31 in 2010, so they seem to be moving in the right direction.
The Packers best offensive lineman is probably veteran left tackle Chad Clifton.  Clifton is 34 years old, but he's still a very effective blocker.  His feet aren't quite as quick as they once were, and he's battled knee problems for the last few years.  I anticipate that he's going to have problems blocking James Harrison.  But of course that puts him in good company, since no other tackle in the NFL seems to be able to block Harrison without holding him.
Daryn Colledge is their left guard, and he's definitely the weak link on their offensive line (picture Trai Essex or Sean Mahan playing for the Packers).  He struggles against strong rushers.
Their center is Scott Wells.  Wells is not the most fearsome looking center in the NFL.  His short arms make him look like he's going to be easy to get by.  But looks can be deceptive.  He's not going to get a great push, but he can hold his ground quite effectively, even against larger nose tackles.
Josh Sitton plays right guard for the Packers.  He's probably the Packers' most physical blocker.  Despite the injury problems that have plagued the Packers offensive line over the past few years, Sitton can always be depended on to suit up and play.  He has solid technique and is very dependable at his position.
Right tackle Bryan Bulaga's name should be very familiar to Steelers fans.  Most mock drafts projected that the Steelers were going to select him in the 1st round of last year's draft.  Bulaga is a big, physical blocker.  Steelers fans should watch him battling LaMarr Woodley, and think about how close he came to being a Steeler.
Overall, the Packers' offensive line is not going to instill fear in their opponents.  They're competent, but not outstanding.  They're not in the same class as the New York Jets offensive line that the Steelers just faced.  That's part of the reason why they have so much difficulty running the ball.  But Aaron Rodgers' mobility help to offset some of the shortcomings in the Packers'  offensive line.
On the opposite side of the ball, the Steelers' offensive line is no better than the Packers.  They've been a M.A.S.H. unit all season long.  Injuries on the Steelers' offensive line seem to be the norm, rather than the exception.
Starting left tackle Max Starks was placed on the injured reserve (IR) list due to a neck injury.  Jonathan Scott has been filling in for him since then.  Scott is a veteran player who is competent, but not outstanding.  He won't be the Steelers' starting left tackle next season.
Left guard Chris Kemoeatu is the only Steelers' starting offensive lineman from 2009 who maintained his position in 2010.  It would be great if all of the changes came because younger players beat out the incumbents.  But instead, it has been injuries that have pushed most of them out of the line-up.
"Kemo" is a big, physical blocker who can also make blocks at the second level.  He can be a bit emotional, and he is prone to getting silly penalties at the most inopportune times.  But if he can play a smart mental game, he is a very good left guard.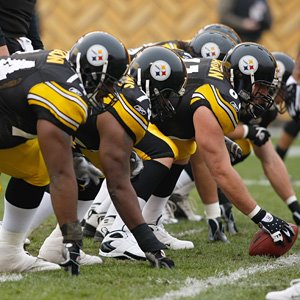 Center Doug Legursky was thrust into the line-up in the AFC Championship game when All-Pro rookie center Maurkice Pouncey suffered a high ankle sprain.  Legursky is a 2nd year veteran who has been shuffled in and out of the Steelers' offensive line as multiple players have gotten hurt this year.  So while it will be tough to replace Pouncey, Legursky has shown that he can fill in well when called upon.
Right guard Ramon Foster is a big (6'6″, 325 lbs.) second year man out of Tennessee.  I liked him last year when I first saw him at Steelers Training Camp.  He filled in well for Chris Kemoeatu at left guard last year, and he beat out Trai Essex for the right guard position this year.
Right guard has been a position that's been in flux for the Steelers for the last 3 years.  Since Kendall Simmons left, nobody has been able to grab the position and hold onto it long-term.  Foster, Essex, Legursky, and Darnell Stapleton have all filled in at the position, but many believe that the Steelers will draft a guard in the upcoming draft in hopes of finding a permanent solution for the position.
Finally, right tackle Flozell Adams was also a last minute replacement.  The Steelers signed the long-time Cowboys' tackle to replace Willie Colon when he was placed on IR.  Adams had a hard time adjusting to the right tackle position after playing left tackle for most of his career.  He struggled at first, but he has been pretty consistent lately.  He isn't as quick-footed as he once was.  I fear that he will struggle against Clay Matthews in pass protection.  But in run blocking, he is still a brute of a blocker.
Neither unit would have been expected to take their team to the Super Bowl, yet here they both are.  And the unit that plays the best may well be responsible for their team hoisting the Lombardi Trophy.
The Steelers' offensive line that played in Super Bowl XLIII may have been one of the worst offensive lines to ever win a Super Bowl.  Perhaps history will repeat itself, and one of these mediocre units will prove that you don't need Pro Bowl players on the offensive line to win an NFL Championship.  All you need is a bunch of guys who are willing to give it their all for 60 minutes.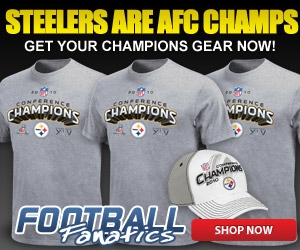 (If you enjoyed this article, please consider leaving a comment by clicking on the square at the top right of this article. Also, please subscribe to our blog by pressing the orange button below. You can also follow us on Twitter by clicking the bird doohicky below. Also consider following us on Facebook. Thanks.)

Subscribe in a reader