This is the final installment in our 9-part Super Bowl XLV Preview series.  We're finally going to bring it all together to tell you who's going to win the game.
But first, if you haven't read the earlier installments, please click the appropriate links below to get caught up.
Part 1:  Super Bowl XLV Preview -  Team overviews
Part 2:  Super Bowl XLV Preview - The quarterbacks
Part 3:  Super Bowl XLV Preview - The Offensive Lines
Part 4:  Super Bowl XLV Preview - The Receivers
Part 5:  Super Bowl XLV Preview - The Running Backs
Part 6:  Super Bowl XLV Preview - The Defensive Lines
Part 7:  Super Bowl XLV Preview - The Linebackers
Part 8:  Super Bowl XLV Preview - The Defensive Backs
Part 9:  Super Bowl XLV Preview - Putting it all together
We've finally come to the end of our Super Bowl Preview series, and I hope I've given everyone enough information so that you'll be the most knowledgeable fan at your Super Bowl party.
Throughout this series, I've pointed out how evenly matched these two teams are.  They're both very talented.  The Steelers have an advantage at the running back and linebacker positions.  The Packers have an advantage with their talented pool of  defensive backs.
I didn't really talk about special teams, but I'd say that Green Bay has the advantage there.  The Steelers have a punter, Jeremy Kapinos, who they signed midway through the season when Dan Sepulveda went out with an injury.  Kapinos used to play for the Packers before they decided to not resign him.  The Packers probably feel that they've upgraded, or else they would have signed Kapinos.
Similarly, the Steelers signed kicker Shaun Suisham in mid-season when veteran kicker Jeff Reed started missing too many untimely kicks.
Since the Steelers have a kicker and a punter who both started the season sitting on their couch, it's hard to give them an advantage on special teams.  So the Packers get that one.
But I still haven't said who I think is going to win, and why.
Ordinarily, I go into every game feeling very confident.  But the Packers are a tough foe.  Aaron Rodgers is a very good quarterback.  I'm nervous.  I admit it.
As I've mentioned throughout this series, the Packers are good.  Sure, their regular season record was only 10-6, but they've peaked at the right time.  They remind me of the Steelers in 2008.  Big Ben was playing out of his mind, and the Steelers just weren't going to be stopped.  I see similar things in the Packers.
Aaron Rodgers is a very talented quarterback who is playing out of his mind right now.  Moreover, he's the type of quarterback who can deliver the ball quickly and pick the Steelers apart.  The Steelers MUST put pressure on him.  They have to hit him early and often.
Fortunately, the Steelers have LaMarr Woodley and James Harrison to do just that.  Both of them should have an advantage over the Packers' tackles that they'll be facing.  LaMarr Woodley should eat Bryan Bulaga for lunch.  And Chad Clifton should prove to be no match for James Harrison.  If Harrison & Woodley can generate pressure, it will help their defensive backs out tremendously.
But the guys who are going to be most critical to a victory are going to be Mike Wallace and Rashard Mendenhall.
The Packers have an incredibly talented defensive backfield.  But none of them has the speed of Mike Wallace.  Mike has to go deep early and often to take the top off of their defense.  And when he does, Ben can't under-throw him (like he does so often).  Once the Packers are forced to respect Wallace's speed, it will open things up for Rashard Mendenhall.
The Packers may be able to stop one or the other, but I don't think they can stop both.  So they'll have to pick their poison.  Do they stop Mendenhall and risk Wallace deep one-on-one, or do they keep a safety back to help with Wallace and make it easier for Mendenhall.  Neither is a good option.
And throughout this series, I've barely mentioned Heath Miller, the guy that the Packers will probably have the hardest time stopping.
Ultimately, I think the Steelers are going to be too much for the Packers.  Experience is so important in a game like this, and the Steelers have that.  The Packers don't.
So when the final whistle blows, the score will be 31-24, and the Steelers will bring Lombardi Trophy #7 back to Pittsburgh.
You heard it here first.
Here we go, Steelers!  Here we go!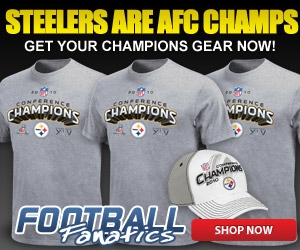 (If you enjoyed this article, please consider leaving a comment by clicking on the square at the top right of this article. Also, please subscribe to our blog by pressing the orange button below. You can also follow us on Twitter by clicking the bird doohicky below. Also consider following us on Facebook. Thanks.)

Subscribe in a reader