April 26, 2009
By Donald Starver
With their third pick in the 3rd round, the Steelers selected Keenan Lewis.  Lewis is a 6'1, 198 pound cornerback out of Oregon State.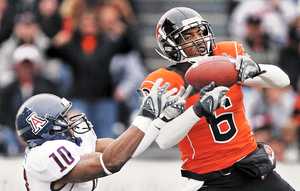 Like Mike Wallace before him, this pick comes as a surprise.  Few scouting reports had Lewis rated this high.  Most had him listed as being between the 12 - 30th best cornerback in this draft.
Lewis has exceptional size for a cornerback, and I'm sure that is what attracted the Steelers to him.  Lewis is a solid defender who benefits from having played in the pass-happy PAC-10.
Best in bump and run coverage, Lewis likes to get his hands on receivers and use his long arms to jam them.
He is good in run support,  though he sometimes avoids contact.  He tends to duck his head when tackling, so he misses some tackles that he should probably make.  Nevertheless, he is a willing participant in run coverage, and can be coached in this area at the next level.
Because of his height and long arms, Lewis gets his hands on a lot of passes.  He reads and reacts quickly.
httpv://www.youtube.com/watch?v=6fcoBGwovZU
On the negative side, Lewis is a long-legged strider who doesn't change directions quickly.  He lacks great athleticism and has only average speed.  He doesn't have soft hands, and sometimes drops interceptions.
A solid week of practice at the Senior Bowl probably helped raise Lewis' stock.
When you look at Lewis' size and athletic attributes, he almost projects better as a safety than as a cornerback.  It will be interesting to see how the Steelers choose to utilize him, since safety is also a team need.
To read about the Steelers' previous pick, click here.
To read about the Steelers' next pick, click here.
(If you enjoyed this article, please consider leaving a comment below. Also, please subscribe to our blog by pressing the orange button below. Thanks.)

Subscribe in a reader