The Pittsburgh Steelers defeated the Carolina Panthers in their final preseason game of the 2009 season by a score of 21-10.  However, winning or losing was the least of coach Mike Tomlin's concerns.
With final 53-man rosters due to the NFL on Saturday, Tomlin and his staff have some very tough decisions to make.  The players who hadn't yet secured a place on the Steelers' roster had one final opportunity to do so.  The NFL is a "what have you done for me lately" league, and this game was the ultimate example of that.
Because the goal of the game was to evaluate players who were "on the bubble", Tomlin barely even played most of his starters.  Instead, players like Mike Reilly, Justin Vincent, Keenan Lewis, Ryan Mundy got to show their stuff.
"I don't make the decisions," said Tomlin, "They make the decisions by how they play."
The player who did the most to help his cause was Stefan Logan.  On his first and only punt return of the game, he returned the ball 80 yards for a touchdown.  Welcome to the Steelers, Mr. Logan.
Others who helped their causes included Isaac Redman, Keenan Lewis, Ryan Mundy, and Arnold Harrison.
Isaac Redman led the team in rushing with 79 yards on 12 carries, while also scoring a touchdown.  He averaged an impressive 6.6 yards per carry.  He also fought for some tough yards on his touchdown run.  Redman ends the preseason as the Steelers rushing leader and touchdown leader.  Not a bad resume to leave for the coaches.
Rookie cornerback Keenan Lewis also helped himself.  Lewis had been very impressive at Steelers training camp, but hadn't shown as much during the first 3 preseason games.  However, in this final opportunity to shine, Lewis led all tacklers with 10 tackles while also adding 2 passes defensed.
Second year safety Ryan Mundy also helped his cause.  Mundy had 5 solo tackles and one assist.  But much more important than the tackles was the fact that Mundy intercepted a pass and returned it for a touchdown.
"Any time you run one back, that gets your attention" Tomlin said.
Linebacker Arnold Harrison helped his cause by doing a very good imitation of James Harrison.  He recorded a sack, forced a fumble, and recovered the fumble, all on the same play.  He also combined with Ryan Mundy to stop the Panthers on a fourth and one play.
One player who could have done more to help his own cause was rookie RB Frank "the Tank" Summers.  Summers only gained 4 yards on one carry.  However, Summers does benefit from the fact that he had several nice blocks, and he is a good special teams tackler.
The Steelers don't have much time before their first game, since they kick off the NFL season next Thursday against the Tennessee Titans.  Thus, coach Tomlin said that he is going to announce his final roster at a press conference today at 4:00 PM.
We will all be waiting anxiously to see who makes the team.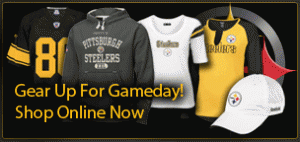 (If you enjoyed this article, please consider leaving a comment below. Also, please subscribe to our blog by pressing the orange button below. You can also follow us on Facebook or Twitter by clicking the doohickies at the bottom of the right column of this page.  Thanks.)

Subscribe in a reader