Today's practice started out with a big crowd, but most left when the skies opened up and it started raining cats and dogs.
Since it was raining so much, I didn't get to take as many notes as I normally would (my notebook got soaked).  I couldn't take as many pictures either.  But here are my top 10 observations from Day 3 (Sunday August 2, 2009).
1)  Hines Ward did not practice today.  I don't know if he was injured or if coach Tomlin is just giving him a rest.  However, he wasn't in pads.  He just had on shorts and a t-shirt.  He was wearing a baseball cap turned backwards.
2)  If you ever wondered if the Steelers practice in the rain, the answer is "yes".  It started raining really hard in the middle of practice.  A few of the players started to leave the field.  Someone on the field yelled that they saw lightning.  Coach Mike Tomlin yelled back "We play games in the rain in the NFL", and that was that.  Nobody left the field, and practice proceeded as usual.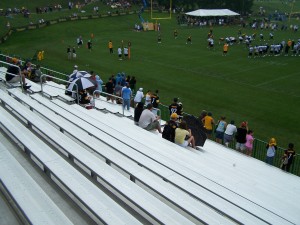 I don't know about anyone else, but I absolutely love the control that Mike Tomlin exercises over his team.  He absolutely will not let them lose focus.  It definitely inspires confidence in me as a fan that the Steelers will not become distracted for any reason.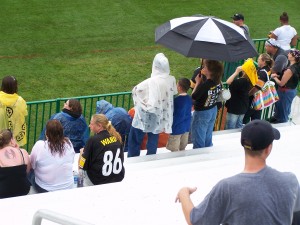 3)  Dan Sepulveda is back!!!! If there were any question about how Dan Sepulveda is healing from his injury/surgery from last season, let me put your mind at rest.  Sepulveda is back 100%!!!!!!  I actually asked Sepulveda how he was feeling yesterday, and he told me 100%.  However, I needed to see it myself.
Today Sepulveda punted for the first time at open practice.  He boomed punts that all seemed to hang in the air for 6 seconds (no exaggeration).  He probably made 10 punts.  The shortest one went 47 yards in the air.  The longest one went 67 yards in the air.  There was a slight wind at his back, but still, 67 yards is awesome.  By the way, did I mention that it was 67 yards in the rain?
4)  Mike Wallace is fast.  He got behind the entire defense for a long reception from Big Ben.  He beat the defenders so badly that it looked like Tom Brady to Randy Moss.
5)  Don't ignore Piotr Czech.  Jeff Reed is an amazing kicker, and I hope the Steelers sign him to an extension.  However, today at practice Piotr Czech got to kick field goals.  He started with an extra point, and then moved back 5 yards on each successive kick.  He never missed.  The coaches stopped the drill after he hit a 55 yarder.  Frankly, I wanted to see him attempt a 60 yarder.
6)  Ziggy Hood beat Kraig Urbick twice in a row in one-on-one drills.  He looked like he totally outclassed Urbick.  However, Urbick stopped him cold on the third try, and the crowd erupted in cheers.
7)  Martin Nance drops too many catchable balls.  I know that he was Ben Roethlisberger's favorite receiver at Miami of Ohio, but I just can't see him making this team.
8)  Limas Sweed is showing good signs.  Limas made several pretty catches, including a nice diving catch by the sidelines that made the crowd go wild.  However, Limas also had some drops that drew a few jeers from the crowd.
9)  I like the way Mike Tomlin lets his assistants do their job.  Each Assistant runs practice for their particular unit.  Tomlin then circulates through the units and watches what they're doing.  At each unit, he singles out a player and shouts encouragement to him.  When he got to the tight ends, he yelled out "C'mon DJ, show me something.  Show me what you got, DJ".  He was referring to rookie tight end David Johnson.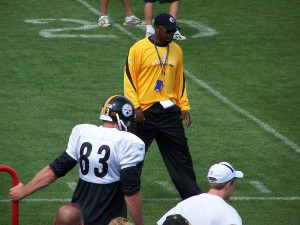 I noticed that when Tomlin is watching a particular unit, the players go at it just a little bit harder.  The wide receivers in particular tend to dive for balls that they would have let fall to the ground if Tomlin weren't watching.  The running backs also seem to hit the holes harder when Tomlin is watching.
10)  Frank "the tank" Summers is already a fan favorite.  Practice ended today when Summers had a violent (and loud) collision with a defender on a running play.  Summers didn't win this one.  He got knocked on his back.  I couldn't see who the defender was, but those around me said that his number ended in a "5″.  They thought it was either Patrick Bailey (#55) or Donovan Woods (#95).  The play drew ooohs and ahhhs from both fans and other players on the field.  It looked like a fight was going to break out, and I saw coaches jump in.  Tempers cooled, and practice ended.
Note: I was wrong about the hit on Frank Summers yesterday.  According to the Pittsburgh Post-Gazette, it was Willie Gay who put the big hit on Summers.  In fact, he knocked Summers down with the hit.  Read about it here.
If you haven't already read our coverage of Day #2, please click below:
Notes from Steelers training camp Day 2
Also see our coverage of Day 4 by clicking here.
Today's Featured Item:  Steelers Black-White 6-Time Super Bowl Champion Varsity Jacket

Buy the best Steelers gear right here at Steelers Today.  We search for the coolest Steelers gear that we can find, and then we present it to our fellow Steelers fans.  Check out this great 6-time Super Bowl Champion varsity jacket.  Feel proud knowing you are letting all of those Ravens, Browns, and Cowboys fans know which team is REALLY king of the hill.  Click below to purchase.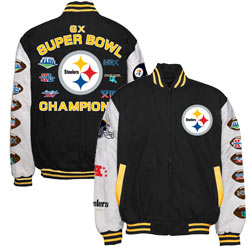 (If you enjoyed this article, please consider leaving a comment below. Also, please subscribe to our blog by pressing the orange button below. Thanks.)

Subscribe in a reader