Steelers Today has hooked up with 31 other NFL bloggers from around the country to do a bloggers' mock draft.  All 32 NFL teams are represented in the mock draft.
For more details on the bloggers' mock draft, click here.
First up is the Detroit Lions.
With the first pick, the Detroit Lions' blog The Wayne Fontes Experience selects:
***Matthew Stafford, QB, University of Georgia***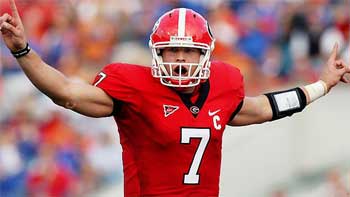 Why Stafford? The Lions current quarterback depth chart reads as follows:
1. Daunte Culpepper (Hasn't had a good season in 5 years, played at a weight close to 3 bills in '08)
2. Drew Stanton (Not good enough to outplay Dan "Ran out of the end zone" Orlovsky for the number 2 in '08, is on the cusp of "BUST" status)
3. Drew Henson (Seriously?)
That's why the Lions pick Stafford.
They have needs all over the field, on both sides of the ball. I was tempted to make a "safe" pick, such  as an OT like Baylor's Jason Smith or Virginia's Eugene Monroe, or Wake Forest LB Aaron Curry. All project to be first line players, long-time starters. But the need for a quality QB, something the Lions haven't had since the glory days of Bobby Layne, is just too glaring. Stafford is the highest rated quarterback in the draft, and has the skill set to become an impact player.
The fact the Lions have drafted outright 1st round disasters at quarterback like Joey Harrington, Andre Ware and Chuck Long over the past 20 years, and Matt Millen went on a drunken skill player binge during his tenure (only Calvin Johnson remains in Detroit), cannot deter GM Martin Mayhew and head coach Jim Schwartz from addressing their greatest need, that being a franchise player under center.
Plus, the Lions do have the 20th pick of the 1st round, and the 1st pick of the 2nd, so other needs can be easily addressed later in the draft.
The St. Louis Rams are on the clock.
(If you enjoyed this article, please consider leaving a comment below. Also, please subscribe to our blog by pressing the orange button below. Thanks.)

Subscribe in a reader