Steelers rookie wide receiver Mike Wallace wasn't drafted until the third round of the 2009 NFL draft.  He was actually the 10th wide receiver taken in the draft.  That's right, 10th!  I'll bet a lot of NFL general managers wish they could have a "do over".
If you listen to NFL analysts, you'd think that Minnesota's rookie wide receiver Percy Harvin was the runaway star of the wide receiver class of 2009.  In fact, by listening to them, you'd think that Harvin was the ONLY member of the class.
Admittedly, Harvin has been pretty good in the kick return game.  He has 860 return yards, and is leading all rookies by a long way.  But if we eliminate kick returns and look exclusively at their production as wide receivers, I'd argue that Wallace has been the best in the class so far.  Wallace is in the top 5 in almost all statistical categories among rookie receivers, and he leads in many of them.
Wallace is tied for 4th in total number of receptions.
| | | |
| --- | --- | --- |
| Name | Team | Receptions |
| Austin Collie | IND | 32 |
| Percy Harvin | MIN | 28 |
| Johnny Knox | CHI | 28 |
| Jeremy Maclin | PHI | 25 |
| Mike Wallace | PIT | 25 |
A more important statistic, in my opinion, is receiving yardage. That statistic shows how effective the receiver has been in actually moving the ball down the field. In this area, Mike Wallace is tops among rookie receivers.
| | | |
| --- | --- | --- |
| Name | Team | Yards |
| Mike Wallace | PIT | 437 |
| Hakeem Nicks | NYG | 407 |
| Percy Harvin | MIN | 369 |
| Austin Collie | IND | 356 |
| Johnny Knox | CHI | 340 |
The reason Wallace has been able to accumulate so many yards is not primarily due to his number of receptions. Rather it is how effective he has been at getting LONG receptions.
To put it simply, Wallace has been much more effective than his rookie peers at burning NFL cornerbacks for long gains.  I projected that this would be the case coming out of Steelers training camp after watching Wallace burn Steelers cornerbacks just about every day.
Wallace leads all rookie wide receivers in receptions of 20 yards or more.
| | | |
| --- | --- | --- |
| Name | Team | 20+ yards |
| Mike Wallace | PIT | 9 |
| Hakeem Nicks | NYG | 6 |
| Percy Harvin | MIN | 6 |
| Mohamed Mossaquoi | CLE | 6 |
| Jeremy Maclin | PHI | 4 |
In fact, Wallace is tied for third in the entire NFL in receptions of 20 yards or more.  That's pretty impressive for a rookie.
Wallace is also tied With Jeremy Maclin and Percy Harvin for second in touchdowns among rookie wide receiver with 3. The key difference is that Maclin and Harvin were both 1st round draft picks, while Wallace was a 3rd rounder.
Noticeably absent from all of these lists of rookie statistical leaders is Darius Heyward-Bey, the first wide receiver selected in the draft.  Heyward-Bey has accumulated a whopping 5 receptions for a total of 74 yards.  Way to go, Al Davis!
Mike Wallace has already shown himself to be as good as any rookie wide receiver from the 2009 draft.  His statistics prove that.  He is just another example of the superior scouting of Kevin Colbert and the Steelers organization.
Steeler Nation already knows how good Mike Wallace is.  I just wish that NFL analysts and other "experts" would come to the same realization.  When they do, Mike Wallace will start being included in the discussions about potential  offensive rookie of the year award winners.
Percy Harvin may ultimately win the award, but Mike Wallace won't make it easy on him.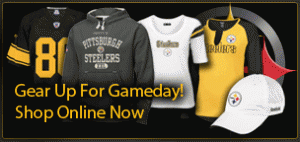 (If you enjoyed this article, please consider leaving a comment below. Also, please subscribe to our blog by pressing the orange button below. You can also follow us on Facebook or Twitter by clicking the doohickies at the bottom of the right column of this page.  Thanks.)

Subscribe in a reader