August 15, 2009
By Donald Starver
This is Part 7 in a series.  If you haven't read the previous installments, please click below:
The wide receiver battle is probably the most intriguing story at Steelers training camp.  The Steelers have a good mix of high draft picks, veteran free agents, and undrafted free agents all battling to make the 53-man roster.  Regardless of who makes the team, I think it is safe to say that Big Ben is going to have some pretty exciting weapons at his disposal.
No other team can boast having two Super Bowl MVPs at wide receiver.  Yet that is exactly what the Steelers have in Hines Ward and Santonio Holmes.  Their contribution to the team is well-documented, and their places on the roster are guaranteed.  So we really don't need to spend much time talking about those two.  The real question is "who will take up the other wide receiver roster slots?"
Since becoming Steelers head coach, Mike Tomlin has always carried 5 wide receivers on the Steelers' roster.  Thus, I am going to assume that 5 is the number of wide receivers that Tomlin is looking for in training camp.
Let's take a look at all of the wide receiver candidates and see if we can predict who will make the final roster.
Hines Ward- As we mentioned earlier, the jaw breaker's roster spot is guaranteed.  He's the Steelers' all-time leading receiver.  He's a multi-time Pro Bowl participant.  He's the best blocking wide receiver in the NFL.  He's clearly a leader on the team, and has the respect of his teammates.  And he probably personifies what the Pittsburgh Steelers are all about better than any other current player.
Santonio Holmes- Everybody remembers that final catch in the Super Bowl.  However, it was Santonio's earlier catches, and his yards after the catch that put the Steelers in the position to be able to pull out a last second win.  That Super Bowl performance will define Holmes for the rest of his career.  His elevated status is already evident at Steelers training camp where the fans cheer any time Holmes makes a catch.  Like Ward, Holmes doesn't have to worry about making the roster.
Limas Sweed- After getting few chances to make plays during the regular season, Limas Sweed blew his first big opportunity when he dropped a critical pass in the AFC Championship game against Baltimore last year.  That play, along with the fact that he faked an injury afterwards, made many Steelers fans lose faith in Sweed.
Fortunately, Sweed has used that as motivation, and has had a very impressive training camp so far.  Moreover, he had two nice catches in the Steelers' pre-season win over the Arizona Cardinals.
Sweed is a big, fast receiver who is in the mold that quarterback Ben Roethlisberger seems to like.  Roethlisberger actively lobbied for a tall receiver, and the Steelers answered him by drafting Sweed.  At 6'4″, Sweed is an easy target for Roethlisberger.  Sweed is the favorite to win the #3 receiver position that was vacated by Nate Washington when he signed with the Tennessee Titans.
Shaun McDonald- Because they were uncertain of what they had in Limas Sweed, the Steelers brought in Shaun McDonald to add an experienced veteran to the wide receiver competition.  McDonald led the Detroit Lions with 79 receptions for 943 yards in 2007.  McDonald lost his position as the Lions' primary receiving target when they drafted super-human receiver Calvin Johnson.  However, that doesn't negate the fact that McDonald is a proven NFL receiver.
McDonald has looked consistent but unspectacular so far in Steelers training camp.  But isn't that exactly what a team needs from their #3 receiver?  After all, if he were spectacular, he would be the #1 or #2 receiver.  When you add in the fact that he can also return punts, I believe that gives McDonald a good chance of making the team.
Dallas Baker- "The touchdown maker" has been anything but since joining the Steelers.  He has scored a grand total of zero touchdowns for the black and gold.  At 6'3″, Baker is a big receiver, so that is a plus.  However, he just hasn't done anything to catapult himself onto the roster.  Baker spent 2008 on the practice squad, so that says that the Steelers' coaches believe he has potential.  He has an outside chance of winning the #5 receiver spot, but I don't foresee that happening.
Martin Nance- At 6'3″, Martin Nance is another big receiver.  He was Ben Roethlisberger's favorite receiver at Miami of Ohio, so that relationship is probably why he is in Steelers training camp in the first place.  Nance has been very inconsistent in my opinion, and has dropped far too many passes at training camp.  While he is big, he is not particularly fast, and doesn't get good separation.  He will not make the team.
Steven Black- Going into Steelers training camp I had never heard of the rookie wide receiver from Memphis.  He is 6'3″ and is another big target.  He has caught my attention a few times at training camp.  He has good hands, and is willing to dive for the ball.  However, with all of the competition at WR this year, he has little chance of making the team.
Brandon Williams- Williams is another experienced receiver that the Steelers brought into training camp.  The 3rd year player has been with both the St. Louis Rams and the San Francisco 49ers.  He has never caught a pass in the NFL, and unless an asteroid falls to Earth and kills all of the other wide receivers in training camp, he won't be catching any for the Steelers this year either.
Tyler Grisham - This kid caught my eyes on the second day of training camp.  I first noticed him because he was so small compared to the other receivers.  But by the end of camp, I was asking "who is that little white guy who keeps diving all over the field catching everything that comes his way?"  When he started putting hard blocks on people, he really caught my eyes.  Some people have said that he reminds them of Wes Welker, but he reminds me of another wide receiver who isn't big enough, or fast enough, but who is willing to block and manages to catch everything that's thrown his way.  Has anyone ever heard of a guy named Hines Ward?
Grisham won't make the team, but this rookie from Clemson has done himself proud in his time at Steelers training camp.  I won't be the least bit surprised if he makes the Steelers' practice squad.
Mike Wallace - You probably thought that I forgot about the 3rd round pick out of Mississippi.  Nope, I just saved him for last.  This kid has impressed me more than any other receiver in Steelers training camp.  First of all, he is FAST.  I don't mean "Santonio Holmes fast".  Nope, I mean "Willie Parker fast".  He ran the second fastest time at last year's NFL combine.  Not only is Wallace fast, but he also has good hands.  I've seen him make sliding catches and diving catches at training camp.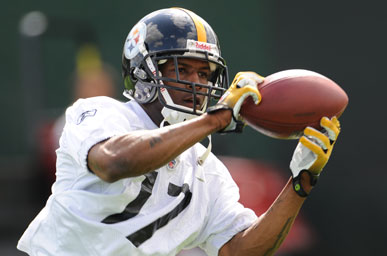 There is seldom a day at training camp where Wallace doesn't beat a defensive back…..badly.  He even burns Ike Taylor.  Not many receivers can do that.  I keep having dreams of Big Ben firing long bombs to Wallace.  Each time I have this dream, I wake up with a big smile on my face.
There is a very good chance that this kid could actually come out of training camp as the #3 receiver.  That's right, I said it.  Mike Wallace might actually win the #3 receiver position.  He's THAT good.  Even if he doesn't, he is very likely to become the primary kick returner.  This kid is going to make the team.  No doubt.
Stefan Logans- Logans is primarily a kick returner, but the Steelers have been working him with the wide receivers, so I'll mention him here.  Logans has NO CHANCE of making the team as a wide receiver.  He will either win a spot as a punt returner, or he will not be wearing black and gold.
So in summary, I believe the 5 receivers who will make the Steelers' roster will be Hines Ward, Santonio Holmes, Limas Sweed, Shaun McDonald, and Mike Wallace.
I'll leave you with one final thought about the Steelers' wide receivers.  Just picture how exciting the Steelers are going to be in 2-3 years when the starting wide receivers are Santonio Holmes, Limas Sweed, and Mike Wallace.  Yeah, the idea puts a big smile on my face too.
(If you enjoyed this article, please consider leaving a comment below. Also, please subscribe to our blog by pressing the orange button below. Thanks.)

Subscribe in a reader