August 30, 2009
By Donald Starver
Typically, the third preseason game of each season is the final tune-up for most of the Steelers' starters.  The 4th and final preseason game is reserved for the players still struggling to make the 53-man roster.  They will be given the majority of the playing time in order to try to convince the Steelers' coaches that they deserve to be on the team. Thus, the Steelers hoped to see a solid performance from all components of their starting team last night, and that is exactly what they got.
The Steelers dominated the Buffalo Bills in all phases of the game. They got scores from the offense, the defense, and the kicking game.
The offense looked crisp and efficient. Big Ben showed no signs of his recent ankle injury, as he completed 15 of 19 passes for 168 yards in two quarters of play.
In particular, Roethlisberger and Hines Ward looked to be in mid-season form. Big Ben connected with Ward 5 times for 74 yards. Roethlisberger also connected with Limas Sweed 4 times for 34 yards.
With Willie Parker out for the game with a slight hamstring injury, Rashard Mendenhall got the starting nod. Mendenhall answered the call by rushing for 48 yards and a touchdown. This was probably Mendenhall's most impressive outing since joining the Steelers, despite the fact that he did lose a fumble.
On defense, the Steelers completely stifled the Bills' offensive attack. They allowed only 135 total yard of offense, and kept the Bills off the scoreboard.
In the first half, when the Steelers' starting defense was in the game, the domination was especially pronounced. The first unit allowed only 3 first downs and 50 yards of offense.
The defense also got into the endzone when linebacker James Farrior intercepted a Bills' pass and ran it back for a touchdown. Farrior played like the Pro Bowl player that he is. He led the team in tackles with 4, he got a sack, forced a fumble, defensed 2 passes, and returned an interception for a touchdown.
The Steelers dominated time of possession holding the ball for an astounding 41:15, compared to only 18:45 for the Bills.
Even the kicking game joined the party.  Kicker Piotr Czech, who started for Jeff Reed who is nursing a minor injury, added 5 points.  He made both of his extra point attempts and added a 34 yard field goal for good measures.
Even the special teams players looked impressive.  Keyaron Fox played like a man possessed.  He excelled on both special teams and as a backup linebacker.  Stefan Logans had another nice night returning punts.  He averaged 15.8 yards on 4 returns.  He returned his longest one 27 yards.  And Mike Wallace averaged 24 yards on kickoff returns.
Studs
James Farrior - If I didn't know better, I would have sworn that Farrior was wearing a red cape last night.  He certainly played like Superman.
Ben Roethlisberger - Forget any thoughts about his injury being a problem.
Limas Sweed - Played with confidence and made some big catches.
Rashard Mendenhall - Lost a fumble, but still had a good night.
Keyaron Fox - Fox played like he is not satisfied to only be a special teams player.
Joe Burnett - He seems to have already lost the punt returner battle to Stefan Logans.  However, the Steelers' coaches must have noticed Burnett's block of a Bills' field goal attempt.
Duds
Bruce Davis - Davis has done little to show that he deserves to be on the team.  He didn't make his presence known on special teams or as a backup linebacker.  The Steelers are always slow to release high draft picks, but Donovan Woods, Patrick Bailey, Arnold Harrison, and Andre Frazier all seem to want this more than Davis.
Frank "the tank" Summers - It's probably not fair to call Summers a dud.  After all, he didn't even play last night.  However, Isaac Redman did play, and he played well.  As unfair as it may sound, Summers may lose his competition with Redman simply by not being in the fight.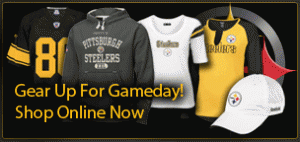 (If you enjoyed this article, please consider leaving a comment below. Also, please subscribe to our blog by pressing the orange button below. You can also follow us on Facebook or Twitter by clicking the doohickies at the bottom of the right column of this page.  Thanks.)

Subscribe in a reader