July 25, 2009
By Donald Starver
This is part 2 in a series.  In part 1 of our Pittsburgh Steelers 2009 Training Camp Preview, we took a look at the defensive line.  We looked at all of the defensive linemen who will be in camp, and gave our picks of who would make the final roster.
In this installment, we are going to take a look at one of the most important positions in Dick LeBeau's 3-4 defense; the linebackers.
This may be a blasphemous thing to say, but the Steelers' 2008 linebackers may have been the best in team history.  My apologies to Jack Ham, Jack Lambert, Andy Russell, Greg Lloyd, Kevin Greene, Levon Kirkland, Mike Merriweather, Jason Gildon, and Joey Porter.  They were all great in their time with the Steelers.  But in what they did both collectively and individually, the 2008 linebackers reigns supreme.
As good as the 2008 linebackers were, the 2009 version may be even better.  Larry Foote is gone, and his starting position will be filled by the younger, faster Lawrence Timmons.  Pro Bowler James Farrior remains ageless,  Lamar Woodley is an emerging superstar, and James Harrison is NFL Defensive Player of the Year.  Did I mention that these guys are pretty good?
So, how do you improve upon perfection?  The answer is, "you don't".  As the saying goes, "if it ain't broke, don't fix it".  That's pretty much the approach that the Steelers took this off-season.  They didn't draft any linebackers this year, and they only signed 2 undrafted free agent linebackers.  They're pretty much going with the same guys they had last year.  Probably not a bad strategy.
In the two years that Mike Tomlin has been coach of the Steelers, he has always carried 9 linebackers on the roster.  Therefore, it is pretty likely that he is going to come out of training camp with 9 linebackers.  Let's see if we can figure out who they're going to be.
James Harrison - What more can we say about James Harrison?  101 tackles.  16 sacks.  NFL Defensive Player of the Year.  Could have easily been MVP of the Super Bowl after his 100 yard interception return.  I don't think anyone is taking his job.  Do you?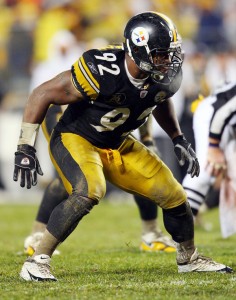 LaMarr Woodley - In his second season in the NFL, and his first as a starter, LaMarr Woodley blossomed into an emerging star.  Not many first-time starters get 11.5 sacks.  But that is exactly what LaMarr Woodley did.  Yeah, I think his job is safe too.
James Farrior - Another Pro Bowl season for the ageless wonder.  Aside from being the defensive captain, he had an amazing 133 tackles.  Other players get older.  Farrior gets better.  I think it's safe to say that he is going to make the team.
Lawrence Timmons - It isn't very often that a substitute player records more tackles and more sacks than the starter that he is substituting for.    But that's exactly what Lawrence Timmons did last year.  He recorded 65 tackles versus Larry Foote's 63, and 5 sacks versus 1.5 for Foote.  Timmons should record even better numbers as a starter.  Yup, his roster spot is safe too.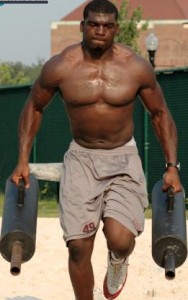 Keyaron Fox - Fox was a special teams ace last season.  With Mike Tomlin's emphasis on special teams, that is enough to assure Fox's roster spot.  But with Lawrence Timmons becoming a starter, Fox will also emerge as the top substitute at inside linebacker.
Patrick Bailey - Another special teams ace, Bailey beat out Rashard Mendenhall, Bruce Davis, Limas Sweed, Tony Hills, and the rest of the 2008 rookies for Rookie of the Year honors.  That accomplishment alone should secure his roster spot.
Bruce Davis - I was a big fan of Bruce Davis when he came out of UCLA.  Unfortunately, he was slow making the transition from defensive end to linebacker.  Moreover, he didn't show a passion for special teams, and made almost no impact there either.  He is a big, strong kid who really is very good at getting to the passer.  If he can show the Steelers' coaches the player that I saw in college, he could emerge as the top back-up at outside linebacker.  I think his roster spot is safe.
Andre Frazier - The biggest of the Steelers inside linebackers, he has yet to truly distinguish himself as a playmaker.  He should be able to hold onto his roster spot, because other players are a bit more vulnerable.  However, it would be great to see Frazier make his presence known this season.
Arnold Harrison - After injuring his ACL, Harrison ended the season on injured reserve.  It is unclear how well his recovery from ACL surgery will go.  He is probably the most vulnerable of last year's linebackers due to the injury.  Additionally, he is primarily an outside linebacker where he will have lots of competition.  I don't expect Harrison to make the team.
Donovan Woods - The second year player was activated a few times last year due to injury.  But for the most part, we got to see very little of him.  He will be helped by the fact that he is primarily an inside linebacker, where there is less competition.
Tom Korte - The odds of a 5'11″ linebacker from tiny Hillsdale college making the roster of the reigning world champions are infinitesimal.  Sure, James Harrison is essentially the same height as Korte, but Harrison is from the planet Krypton.  Keep as many training camp souvenirs as you can Tom.  Otherwise your friends will never believe that, for a brief time, you were a Pittsburgh Steeler.
Andrew Schantz - I have never seen the rookie from Portland State play.  However, Portland State is a quality program that has placed a linebacker in the NFL each of the past 2 years.  Schantz was the MVP of the Portland State squad, as well as second team All-Big Sky Conference.  If he plays well in camp, particularly on special teams, Schantz could battle  Donovan Woods, and Arnold Harrison for the final roster spot among the linebackers.
Today's Featured Item:  Steelers Training Camp T-Shirt
Buy the best Steelers gear right here at Steelers Today.  Don't head to Latrobe without your own 2009 training camp t-shirt.  Click below to purchase.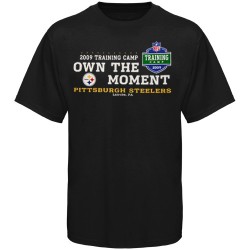 Click here to buy
(If you enjoyed this article, please consider leaving a comment below. Also, please subscribe to our blog by pressing the orange button below. Thanks.)

Subscribe in a reader