Steelers Today has hooked up with 31 other NFL bloggers from around the country to do a bloggers' mock draft.  All 32 NFL teams are represented in the mock draft.
The mock draft is sponsored by Cleveland Browns blog No Logo Needed.  For more details on the bloggers' mock draft, click here.
With the seventh pick of the 2009 NFL Draft the Oakland Raiders blog Silver and Black Pride selects…
Jeremy Maclin, wide receiver, Missouri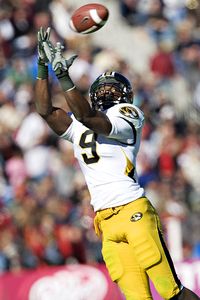 The Oakland Raiders have several needs that they need to address, including the offensive/defensive lines, wide receiver, linebacker and safety.
With the two elite offensive tackles already off the board, the Raiders go with what some scouts peg as the top wide receiver in the draft Jeremy Maclin. Though Crabtree possess incredible talent, the Raiders love Maclin's elite speed, better known as "Raider Speed" in Al Davis speak. For the Raiders, with Javon Walker's health and reliability always a concern, they have no true # 1 wide receiver. The Raiders leading wide receiver last season was Johnnie Lee Higgins with 22 receptions for 366 yards. That just isn't going to cut it and opposing defenses are going to know that the Raiders will run first and often which will make them very predictable. Maclin's speed is the perfect antidote for that as he will stretch the field and allow strong-armed quarterback JaMarcus Russell to air it out and keep defenses honest.
The Raiders were ranked dead last in passing offense last season and with the youth movement underway in Oakland, Maclin becomes a key piece of the Raiders' future.
The draft results so far are shown below.  Click on the individual pick to read the blogger's rationale for his selection.
1. Detroit Lions:  Mathew Stafford, QB (Georgia)
2. St. Louis Rams: Eugene Monroe, OT (Virginia)
3. Kansas City Chiefs: Aaron Curry, LB (Wake Forest)
4. Seattle Seahawks: Michael Crabtree, WR (Texas Tech)
5. Cleveland Browns: Rey Maualuga, LB (Southern California)
6. Cincinnati Bengals: Jason Smith, OT (Baylor)
7. Oakland Raiders: Jeremy Maclin, WR (Missouri)
The Jacksonville Jaguars are on the clock.
(If you enjoyed this article, please consider leaving a comment below. Also, please subscribe to our blog by pressing the orange button below. Thanks.)

Subscribe in a reader