Steelers Today has hooked up with 31 other NFL bloggers from around the country to do a bloggers' mock draft.  All 32 NFL teams are represented in the mock draft.
For more details on the bloggers' mock draft, click here.
With the sixth pick of the 2009 NFL Draft the Cincinnati Bengals blog Bengal Stripes selects…
Jason Smith, offensive tackle, Baylor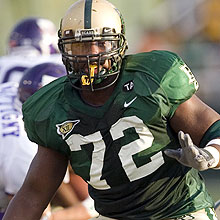 Don't expect the phone to ring very much in the Bengals' war room and if it does I don't expect anyone to answer it.
If Jason Smith falls to Cincinnati at No. 6, there will be no complaints from any coach, player or fan in the Queen City when the Bengals gobble him up.
Ever since the combine, Smith has climbed up draft boards due to his excellent interviews and also because Alabama OT Andre Smith's early exit from the event last month.
In the 2009 NFL Draft, the Bengals are in a unique position in that they need everything.
However, the team needs an offensive tackle more than ever after cutting longtime starting right tackle Willie Anderson before the start of the 2008 season.
On the other side, Cincinnati's left tackle Levi Jones hasn't been the same player fans fell in love with him in the early portion of this decade. Through his first four seasons with the Bengals Jones played in 63 of Cincinnati's 64 regular season games, including 60 of which he started. The last three seasons, Jones played in 31 of the team's 48 regular season games and started only 28.
On top of all that, last year's franchise player Stacy Andrews signed a long-term deal to play with his bro in Philadelphia on the first day of free agency.
If the season would start today, it would appear that 2008 fourth-round pick Anthony Collins would be the starter at left tackle and left guard Andrew Whitworth would probably start at right tackle.
Nate Livings would then take Whitworth's old spot at guard, with a mystery man filling in at center.
It is pretty obvious that the Bengals o-line is the team's messiest area.
Getting Smith would instantly would upgrade Cincinnati.
The draft results so far are shown below.  Click on the individual pick to read the blogger's rationale for his selection.
1. Detroit Lions:  Mathew Stafford, QB (Georgia)
2. St. Louis Rams: Eugene Monroe, OT (Virginia)
3. Kansas City Chiefs: Aaron Curry, LB (Wake Forest)
4. Seattle Seahawks: Michael Crabtree, WR (Texas Tech)
5. Cleveland Browns: Rey Maualuga, LB (Southern California)
6. Cincinnati Bengals: Jason Smith, OT (Baylor)
The Oakland Raiders are on the clock.
(If you enjoyed this article, please consider leaving a comment below. Also, please subscribe to our blog by pressing the orange button below. Thanks.)

Subscribe in a reader