Everyone knows that the Pittsburgh Steelers are champions on the field.  What many don't know is how many of the players are champions off the field.  One of those players is linebacker and special teams ace Keyaron Fox.
Fox has launched the Keyaron Fox Foundation with the goal of facilitating fundraising efforts to impact inner city parks and recreational initiatives, youth recreational leagues, and intramural organizations.  Fox hopes to increase awareness of the need for additional funds to maintain parks & recreational property and equipment.  Fox wants to make sure that the next generation of kids has the same opportunities to play sports that he had.
"With all the attention that winning the Super Bowl has brought in this past year, I could not think of a better time to launch the Keyaron Fox Foundation and begin to start raising awareness of the funding needs of our local parks and recreational facilities.  These parks and recreational facilities are touching the youth in our communities 365 days a year", said Fox.
Fox, who was born and raised in Atlanta and attended college at Georgia Tech, chose his hometown to host his first event.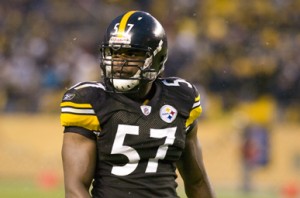 On July 25, 2009, Fox will host the "Will of Steel" community day at Atlanta's Welcome All Park.  The event will feature the "Iron and Steel" sports athletic clinic, followed by the "Keyaron Cares" family fun day.
The "Iron and Steel" sports athletic clinic will feature NFL players like current Pittsburgh Steelers Hines Ward and Arnold Harrison, and former Steeler Anthony Smith.  Other NFL players who will be present include Calvin Johnson of the Detroit Lions, Tashard Choice of the Dallas Cowboys, Takeo Spikes of the San Francisco 49ers, Darryl Smith of the Jacksonville Jaguars, James Butler of the St. Louis Rams, Gerris Wilkerson of the New York Giants, and Deon Grant of the Seattle Seahawks.
The "Keyaron Cares" family fun day will include interactive games, vendors, animals, live performances, autograph signings by professional athletes and recording artists, a special And-1 street ball and dunk exhibition, health screenings and much more.
The event is free of charge.  For more information about the event, or to register your 8-13 year old boy or girl for the athletic clinic,  please go to http://www.keyaronfoxfoundation.org.  The deadline for registration for the athletic clinic is July 20, 2009.
Besides working on his foundation, Fox is also looking forward to the upcoming season with the world champion Pittsburgh Steelers.  "Last year was an amazing year for our organization.  I'm very excited that they brought me back to compete for another championship with this great organization.  Black and Gold is a beautiful thing, and I will proudly wear those colors again this season".
"The whole team worked so hard last year, and I know that we've all been training and really trying to keep that chip on our shoulders going into training camp and next season, myself included.  You always want to do better than the previous season, personally and as a team".
Well Keyaron, I'm sure that Steeler Nation appreciates your desire to do even better than the team did last year.  However, I don't think you have to put so much pressure on yourself.  Merely doing AS WELL as you did last year and winning another Super Bowl will probably make most fans happy.  See, no pressure.
(If you enjoyed this article, please consider leaving a comment below. Also, please subscribe to our blog by pressing the orange button below. Thanks.)

Subscribe in a reader