Steelers Today has hooked up with 31 other NFL bloggers from around the country to do a bloggers' mock draft.  All 32 NFL teams are represented in the mock draft.
The mock draft is sponsored by Cleveland Browns blog No Logo Needed.  For more details on the bloggers' mock draft, click here.
With the eighth pick of the 2009 NFL Draft the Jacksonville Jaguars select…
B.J. Raji, defensive tackle, Boston College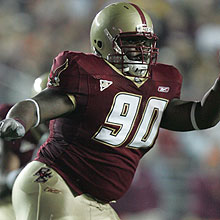 The Jags still haven't adequately replaced Marcus Stroud so B.J. Raji could be an intriguing option at defensive tackle alongside John Henderson.
Raji had an amazing Senior Bowl.  He dominated everyone who tried to block him.  Much like Sedrick Ellis in 2008, Raji probably played himself into the top 10 with his Senior Bowl performance.
The Jaguars' defense has been in decline of late.  Raji will help reverse that trend.
The draft results so far are shown below.  Click on the individual pick to read the blogger's rationale for his selection.
1. Detroit Lions:  Mathew Stafford, QB (Georgia)
2. St. Louis Rams: Eugene Monroe, OT (Virginia)
3. Kansas City Chiefs: Aaron Curry, LB (Wake Forest)
4. Seattle Seahawks: Michael Crabtree, WR (Texas Tech)
5. Cleveland Browns: Rey Maualuga, LB (Southern California)
6. Cincinnati Bengals: Jason Smith, OT (Baylor)
7. Oakland Raiders: Jeremy Maclin, WR (Missouri)
8. Jacksonville Jaguars: B.J. Raji, DT (Boston College)
The Green Bay Packers are on the clock.
(If you enjoyed this article, please consider leaving a comment below. Also, please subscribe to our blog by pressing the orange button below. Thanks.)

Subscribe in a reader