Steelers Today has hooked up with 31 other NFL bloggers from around the country to do a bloggers' mock draft.  All 32 NFL teams are represented in the mock draft.
The mock draft is sponsored by Cleveland Browns blog No Logo Needed.  For more details on the bloggers' mock draft, click here.
With the ninth pick of the 2009 NFL Draft the Green Bay Packers blog LombardiAve selects…
Brian Orakpo, defensive end, Texas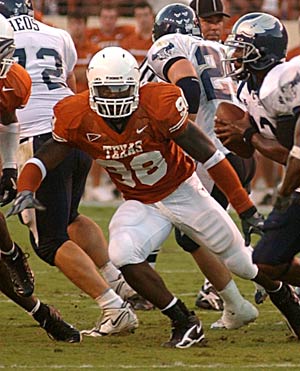 With the new 3-4 scheme in town, the Packers desperately need a good outside pass rusher to play opposite Aaron Kampman.  Orakpo provides that strong force from the outside to succeed.  All of the great 3-4 defenses in the NFL have "that guy" that can make plays, from James Harrison in Pittsburgh to Terrell Suggs in Baltimore.  Orakpo will be able to help anchor the Packers linebacking corps for a long, long time.
Most people have the Packers picking Ohio State corner Malcolm Jenkins with this pick, including most "experts."  While that makes sense given the age of starters Charles Woodson and Al Harris, there is still youth behind them.  Tramon Williams (despite his contract situation) filled in admirably when Harris was out with the spleen injury in 2008 and the Packers drafted Pat Lee in the third round in 2008 as well.  If they pick a corner, they'll do it in the second, third, or fourth rounds.  We don't want another Ahmad Carroll on our hands.
The player I feel the Packers need the most is B.J. Raji from Boston College.  Raji is big and strong, and can move decently.  I feel he would provide a great anchor to the 3-4 scheme.  None of the tackles the Packers have on the roster currently are the right type for Dom Capers' defense, and Raji could provide a Casey Hampton-like presence in the middle and be the nucleus of that defensive line and defense for years to come.  However, I will take a terror from the outside in Orakpo as well.
The draft results so far are shown below.  Click on the individual pick to read the blogger's rationale for his selection.
1. Detroit Lions:  Mathew Stafford, QB (Georgia)
2. St. Louis Rams: Eugene Monroe, OT (Virginia)
3. Kansas City Chiefs: Aaron Curry, LB (Wake Forest)
4. Seattle Seahawks: Michael Crabtree, WR (Texas Tech)
5. Cleveland Browns: Rey Maualuga, LB (Southern California)
6. Cincinnati Bengals: Jason Smith, OT (Baylor)
7. Oakland Raiders: Jeremy Maclin, WR (Missouri)
8. Jacksonville Jaguars: B.J. Raji, DT (Boston College)
9. Green Bay Packers, Brian Orakpo, DE (Texas)
The San Francisco 49ers are on the clock.
(If you enjoyed this article, please consider leaving a comment below. Also, please subscribe to our blog by pressing the orange button below. Thanks.)

Subscribe in a reader