Steelers Today has hooked up with 31 other NFL bloggers from around the country to do a bloggers' mock draft.  All 32 NFL teams are represented in the mock draft.
The mock draft is sponsored by Cleveland Browns blog No Logo Needed.  For more details on the bloggers' mock draft, click here.
With the tenth pick of the 2009 NFL Draft the San Francisco 49ers blog Niners Nation selects…
Everette Brown, outside linebacker, Florida State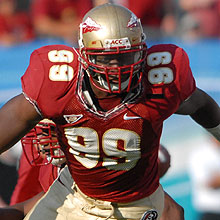 The 49ers have various needs this offseason, but unlike what some people are predicting, a first round QB is not one of those needs.  The 49ers have a pair of outside linebackers, one of whom turned in a very solid season in 2008.  Parys Haralson seems to have a legitimate future going forward as a pass rushing outside linebacker.  Manny Lawson is an athletic freak, but he seems less inclined to rush the passer or more likely to be a guy in coverage and in a read position.
Although Everette Brown didn't have a ton of experience (only one season as a fulltime starter), he still racked up 23 sacks for his 3-year career.  This pick is a really tough one for the 49ers because it seems like they're too high for guys like Oher, but they're too low for a BJ Raji.  Andre Smith is plummeting and seems like too much of a headcase.  If the first 9 picks go in the above order, I think the 49ers will battle themselves in trying to decide between Michael Oher and Everette Brown.  What wouldn't surprise me is if the 49ers tried to move up from the second round into the late first round to grab the right tackle they need.  They've shown no qualms about making those kinds of moves, so we'll see if they do so again.
The draft results so far are shown below.  Click on the individual pick to read the blogger's rationale for his selection.
1. Detroit Lions:  Mathew Stafford, QB (Georgia)
2. St. Louis Rams: Eugene Monroe, OT (Virginia)
3. Kansas City Chiefs: Aaron Curry, LB (Wake Forest)
4. Seattle Seahawks: Michael Crabtree, WR (Texas Tech)
5. Cleveland Browns: Rey Maualuga, LB (Southern California)
6. Cincinnati Bengals: Jason Smith, OT (Baylor)
7. Oakland Raiders: Jeremy Maclin, WR (Missouri)
8. Jacksonville Jaguars: B.J. Raji, DT (Boston College)
9. Green Bay Packers, Brian Orakpo, DE (Texas)
10. San Francisco 49ers, Everette Brown, OLB (Florida State) 
The Buffalo Bills are on the clock.
(If you enjoyed this article, please consider leaving a comment below. Also, please subscribe to our blog by pressing the orange button below. Thanks.)

Subscribe in a reader