September 1, 2009
By Donald Starver

Among the many things that you generally find along the sidelines of a typical NFL game, I think the Steelers are going to need to add another; surgeons.  I can't see any other way to insure the health and safety of our $100 million franchise quarterback Ben Roethlisberger.
Perhaps I'm being a pessimist.  I really don't mean to see the glass as half empty.  But I just don't see any other alternative.
The Steelers announced that guard/center Darnell Stapleton was being placed on the injured reserve list.  Stapleton had arthroscopic surgery on his knee in early August, but his knee has not responded as expected, so he was placed on IR and will miss the entire 2009 season.
So an offensive line that was already one of the most porous in the NFL is losing one of their starters.  That can't possibly be a good thing.
Stapleton, an undrafted free agent out of Rutgers, moved into the starting line-up last year when Kendall Simmons injured his Achilles.
Prior to injuring his Achilles tendon, Simmons was one of the most criticized of the Steelers' offensive linemen.  In his last 1.5 years with the Steelers, Simmons looked more like a matador than an offensive lineman. Nevertheless, prior to Simmons' injury, Stapleton had not been able to displace him.
When he finally did replace Simmons, Stapleton did a solid, but unspectacular, job.  He was part of an offensive line that gave up 6 billion sacks (at least it seemed like 6 billion).  That performance definitely didn't inspire great confidence in Steelers fans.
Now, with Stapleton out for the year, he is going to be replaced in the starting line-up by Trai Essex.
Essex, a 5th year pro out of Northwestern University,  is a career backup who has never been able to break into the starting line-up despite high expectations when he was drafted.  In fact, the veteran Essex couldn't beat out the undrafted Stapleton when a position finally did open up.  Now it appears that injury, rather than merit, will finally make Essex a starter.
So if I follow the progression properly, the Steelers will be starting a career backup who couldn't beat out an undrafted free agent who couldn't beat out a player who looked more like a matador than an offensive lineman.  Perhaps I misunderstood Darwin's theory, but it appears that evolution seems to be working in reverse when it comes to the Steelers' offensive line.  The weak are getting weaker.
As an indirect result of Stapleton's injury, Doug Legursky will probably make the Steelers' 53-man roster.   More reverse evolution.
I am always reminded by certain fans that the Steelers offensive line was good enough to win the Super Bowl.  However, for some reason that just doesn't leave me with a great deal of comfort.  Heck, the Ravens won the Super Bowl with Trent Dilfer playing QB, but I still think they would have gladly replaced him with Dan Marino if they could have.
So now the Steelers will enter the 2009 season with Max Starks, Chris Kemoeatu, Justin Harwig, Trai Essex, and Willie Colon protecting Big Ben.  The optimist in me hope that this group will finally prove to be a unit worthy of a Super Bowl champion.  But the pessimist in me thinks the Steelers had better start interviewing surgeons.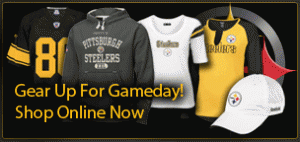 (If you enjoyed this article, please consider leaving a comment below. Also, please subscribe to our blog by pressing the orange button below. You can also follow us on Facebook or Twitter by clicking the doohickies at the bottom of the right column of this page.  Thanks.)

Subscribe in a reader