Steelers Today has hooked up with 31 other NFL bloggers from around the country to do a bloggers' mock draft.  All 32 NFL teams are represented in the mock draft.
The mock draft is sponsored by Cleveland Browns blog No Logo Needed.  For more details on the bloggers' mock draft, click here.
With the eleventh pick of the 2009 NFL Draft the Buffalo Bills blog Buffalo Rumblings selects…
Clay Matthews, outside linebacker, USC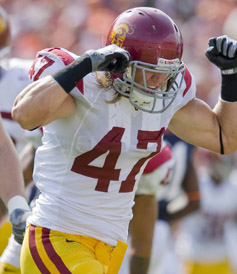 Buffalo is in full-fledged "win now" mode.  Let's face it - you're not risking Terrell Owens being on your roster if you're not desperate for a few wins.  Unlike the '08 draft, when the Bills took small-school product Leodis McKelvin and unpolished receiver James Hardy with their first two picks, the Bills are going to look past potential for guys that can contribute immediately, particularly in the first three rounds.
Unfortunately, the team is forced to choose between prospects at this stage in the game that either aren't worthy of a selection this high (Brandon Pettigrew) or fill needs but are inexperienced (Matthews, Aaron Maybin).  In the end, Matthews - yes, even ahead of USC teammate Brian Cushing - is the best fit.  He gives the Bills an outstanding blitz presence right out of the gate, and he adds playmaking ability to the Bills' league-renowned special teams unit as well.
Matthews isn't a perfect fit in Buffalo's zone-based scheme; his coverage skills are severely underdeveloped, and it's unclear whether he'd be a better fit as a linebacker or an end in a 4-3 defense.  In Buffalo, he'd have the opportunity to play a little of both.  Buffalo desperately needs a physical, hard-hitting presence at linebacker for run downs, and the 6'3″, 240-pound Matthews can lay the lumber.  But he also opened some eyes at the Combine when he easily recorded the fastest 10-yard split of any pass-rushing prospect; his 1.49-second time was beaten by only nine cornerbacks.  He's very explosive in the short area, and given that fact, he also has potential as a pass-rush specialist - either standing or down on the line - for the blitz-happy Bills.  His work ethic, intangibles and unbelievable NFL bloodlines make him a safe investment, even if he's a bit of a reach.
The draft results so far are shown below.  Click on the individual pick to read the blogger's rationale for his selection.
1. Detroit Lions:  Mathew Stafford, QB (Georgia)
2. St. Louis Rams: Eugene Monroe, OT (Virginia)
3. Kansas City Chiefs: Aaron Curry, LB (Wake Forest)
4. Seattle Seahawks: Michael Crabtree, WR (Texas Tech)
5. Cleveland Browns: Rey Maualuga, LB (Southern California)
6. Cincinnati Bengals: Jason Smith, OT (Baylor)
7. Oakland Raiders: Jeremy Maclin, WR (Missouri)
8. Jacksonville Jaguars: B.J. Raji, DT (Boston College)
9. Green Bay Packers, Brian Orakpo, DE (Texas)
10. San Francisco 49ers, Everette Brown, OLB (Florida State)
11. Buffalo Bills, Clay Matthews, OLB (Southern California)
The Denver Broncos are on the clock.
(If you enjoyed this article, please consider leaving a comment below. Also, please subscribe to our blog by pressing the orange button below. Thanks.)

Subscribe in a reader