With the 18th pick in the 2010 NFL Draft, the Pittsburgh Steelers select Maurkice Pouncey, center from Florida.
Those were the words that may have begun the Steelers' first move towards returning to playing "Steelers football".
Maurkice Pouncey is one of the players that I was hoping the Steelers would select.  The highest priority on the team was the offensive line (yes, it was more important than defensive back).  The Steelers almost never use high draft picks on offensive linemen, and it was time to change that trend.
And change they did.  The Steelers selected the best center in the draft.  This year's center class was very weak until Pouncey decided to come out of school early.  He was only a junior.
At 6'4″, 304 lbs., Pouncey is a versatile offensive lineman who can also play guard.  He is an incredible athlete with a very high football IQ.
In 2007, as a true freshman, Pouncey started 11 games at guard.  As a sophomore, he moved to center, and as a junior he won the Outland Trophy, which is given each year to the top center in college football.
Pouncey compares very favorably to some of the best centers to come out of college in recent years.  In fact, he is probably a better athlete than either Nick Mangold or Alex Mack.
He played in one of the best programs in the country at Florida, where he won a national championship as a sophomore.  Not only did he play in a great program, but he also played in the SEC, which most experts acknowledge to be the best conference in college football.  Playing in the SEC, Pouncey fared extremely well against Alabama's Terrence Cody and Tennessee's Dan Williams.  Those two are probably the best two nose tackles in this year's draft.  Moreover, Pouncey seldom required help from a guard when facing these behemoths.  His success against such high level competition leaves Pouncey battle tested, and well-prepared to step in and start from Day 1.
If there is one word that describes Pouncey, its "winner".  The kid is a winner.  Pouncey's winning ways didn't just start in college.  In high school, he won 3 state football titles as a guard at prep powerhouse Lakeland (FL).
But lest we paint too rosy a picture, we have to acknowledge some of Pouncey's shortcomings.  Pouncey played in a finesse offense at Florida.  Most of his snaps were made in the shotgun.  Pouncey is going to have to adjust to primarily doing traditional snaps.  But few scouts believe this is going to be a problem for him.
Pouncey is also going to have to tighten up his technique.  He is so physically talented, that he sometimes lets his technique slip.  He is used to dominating on ability alone, and that won't be the case in the NFL.
Finally, Pouncey did have a problem with kidney stones while in college.  However, he showed his toughness by starting in the 2010 Sugar Bowl mere hours after receiving four bags of IV fluids and being treated for kidney stones.  That alone showed me that this kid is one tough SOB.
Pouncey will likely start out by replacing Trai Essex at right guard (Thank you, God!!!!).  Then in 2011, he will probably move to center, and man that position for the next decade.
I love the way the Steelers' 2010 draft is starting out.  Hopefully, Day 2 will be equally successful.  But even if it isn't, Day 1 was definitely a winner.
To read about the Steelers' other picks, click the name below:
Thaddeus Gibson - DE, Ohio State
Stevenson Sylvester - LB, Utah
Jonathan Dwyer - RB, Georgia Tech
Antonio Brown - WR, Central Michigan
Doug Worthington - DT, Ohio State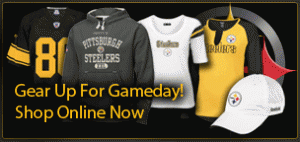 (If you enjoyed this article, please consider leaving a comment below. Also, please subscribe to our blog by pressing the orange button below. You can also follow us on Facebook or Twitter by clicking the doohickies at the bottom of the right column of this page.  Thanks.)

Subscribe in a reader