With the 35rd pick in the fifth round (#166 overall) of the 2010 NFL Draft, the Pittsburgh Steelers select Stevenson Sylvester, LB from Utah.
Sylvester is 6'2″, 235 lbs.  Like the two linebackers the Steelers selected earlier, Sylvester has very good straight line speed.  It's almost as though Dick LeBeau said "I need some weapons that I can point at a target and shoot".
At only 235 pounds, Sylvester is a bit light to be a 3-4 outside linebacker.  He'll need to bulk up if he hopes to play that position.  However, I believe that Sylvester's initial impact will be made on special teams, and his size and speed are ideal for that assignment.
Sylvester is another player who has relied primarily on athleticism while in college.  He relies on speed more than good technique, and that is going to have to change at the next level.  But coaches understand that you can teach technique, but you can't teach speed.  Therefore, they're always willing to take a risk on a guy with speed.
Despite the shortcomings in his technique, Sylvester was a very consistent player in college who was solid against the run and the pass.  He's going to need to get stronger, but he's a decent risk this late in the draft.  I expect him to contribute on special teams, but little more.
To read about the Steelers' other picks, click the name below:
Thaddeus Gibson - DE, Ohio State
Stevenson Sylvester - LB, Utah
Jonathan Dwyer - RB, Georgia Tech
Antonio Brown - WR, Central Michigan
Doug Worthington - DT, Ohio State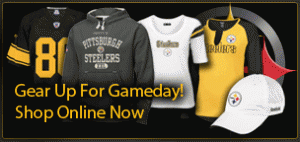 (If you enjoyed this article, please consider leaving a comment below. Also, please subscribe to our blog by pressing the orange button below. You can also follow us on Facebook or Twitter by clicking the doohickies at the bottom of the right column of this page.  Thanks.)

Subscribe in a reader