With the 19th pick in the sixth round (#188 overall) of the 2010 NFL Draft, the Pittsburgh Steelers select Jonathan Dwyer, RB from Georgia Tech.
This pick absolutely shocked me.  Not because it was a bad pick, but because it was a tremendously good pick.
I wrote about Jonathan Dwyer in my series on the Steelers' needs going into the draft.  If you haven't read that article, click here.  In that series, I talked about Dwyer, and pointed out that he was the best power back available in this year's draft.
Dwyer was ranked by many as the second best running back in the entire draft.  He was generally considered to be a 1st or 2nd round draft pick.  So for the Steelers to get the running back who best meets their needs in the 6th round was absolutely amazing.
There were of course reasons for Dwyer's drop.  He did not perform as well as expected at the NFL Scouting Combine.  Moreover, he failed a drug test at the Combine.  But he had warned teams in advance that he was going to fail the drug test.  He has attention deficit disorder, and has been taking medication for it since his youth.  This was reported to be the cause of the drug test failure.
At 5'11″. 229 lbs., Dwyer is a born power back.  He's powerfully built, and excels at running between the tackles.  He is not particularly elusive, and will never be confused with Barry Sanders.  But if you want a back who is going to run downhill between the tackles, Jonathan Dwyer is the guy.
Dwyer is can break arm tackles, and he is very difficult to bring down.  He's a north-south runner who can get the tough yards that the Steelers failed to get last season.
He is not particularly fast, and won't break a lot of long runs.  In particular, he's not good at getting around the edge.  But between the tackles he is very good.
Dwyer came out of college a year early.  If he had stayed for his final season, he would have finished his career as Georgia Tech's all-time leading rusher.  He was the ACC Player of the Year in 2008 when he led the league in rushing with 107.3 yards per game.
Some people think that his success was due to Head Coach Paul Johnson's triple-option offense.  But I don't believe this is the case.  As a freshman, he backed up Tashard Choice (now with the Dallas Cowboys), and averaged 5.3 yards per carry in Coach Chan Gailey's pro style offense.
Dwyer is going to have to work on some skills when he joins the Steelers.  He was almost never asked to catch the ball in college, and he will need to learn to catch if he wants to be more than a 2-down running back.  Also, his blocking will have to improve, but he has the physique to be able to handle that assignment.
Overall, I think this is an outstanding draft pick for the Steelers.  He will be the perfect complement to Rashard Mendenhall.  Many fans thought that Mendenhall and Willie Parker made a nice combination as a power back and a speed back.  But that wasn't really true.  Anyone who has actually watched Mendenhall play quickly realizes that he is not a power back, despite his size and incredibly muscular physique.  Mendenhall doesn't like contact.  He'd rather run around the edge.  Perhaps this is due to his unfortunate injury at the hands of Ray Lewis.  But Mendenhall now goes into a ridiculous spin move anytime he feels contact coming.  He almost never takes on the tackler head-on anymore.  So Dwyer will now have the opportunity to relieve him of that burden.
To read about the Steelers' other picks, click the name below:
Thaddeus Gibson - DE, Ohio State
Stevenson Sylvester - LB, Utah
Jonathan Dwyer - RB, Georgia Tech
Antonio Brown - WR, Central Michigan
Doug Worthington - DT, Ohio State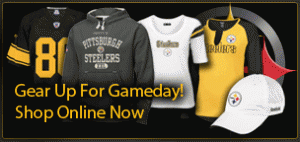 (If you enjoyed this article, please consider leaving a comment below. Also, please subscribe to our blog by pressing the orange button below. You can also follow us on Facebook or Twitter by clicking the doohickies at the bottom of the right column of this page.  Thanks.)

Subscribe in a reader