With their third round pick, the Pittsburgh Steelers selected Emmanuel Sanders, a wide receiver from Southern Methodist University (SMU).
I hate to be a critic.  I really do.  But just like the Steelers' 2nd round pick, I think they reached on this pick.  Most scouts had Sanders ranked between the 15th - 25th best wide receiver in this years' draft.  So why did the Steelers make him the 7th wide receiver drafted?  I haven't seen Sanders' name mentioned in any scouting reports prior to the 5th round.  Yet the Steelers took him in the 3rd round.  Hmmmmmm.
Having said that, let's take a look at Sanders.
Emmanuel Sanders was a 3-year starter at SMU.  He is an exceptional athlete who lettered in 3 sports (baseball, basketball, and track) in high school.
He is more quick than fast.  He doesn't have the pure speed to leave his defenders in the dust, but he has the quickness to change directions on a dime and get separation at will.  He is great at finding the gaps in a zone and will find a way to get open.  His skill set projects well to being a good slot receiver.
In addition to his shiftiness, Sanders also has very good leaping ability.  He has a 40 inch vertical, and can go up and get the ball.  He is deadly in the red zone, despite not being 6'5″.
He had an excellent showing at the East-West Shrine Game that brought him to the attention of many teams that had probably not even considered him prior to that outing.
The problem with Sanders is that he's small.  Very small.  He's slightly under 5'11″, which isn't so bad.  The problem is that he only weighs 180 lbs.  He is very thin, and almost looks frail.  I am concerned about his durability at the next level.  Also, his small frame made his blocking ability almost non-existent.  This guy is no Hines Ward.
To be fair, he is fearless going across the middle of the field, and he is willing to attempt to block.  But his size may make either of those activities very dangerous.
Sanders did put up very impressive receiving numbers, particularly in his senior year.  He had 98 catches for 1,339 receiving yards and 7 touchdowns in his final year.  However, many believe that his statistics are inflated because he played in June Jones' pass-happy offense (Imagine Bruce Arians, only with half as many running plays) .
Sanders is good as a return man.  However, with Stefan Logan, Mike Wallace, Joe Burnett, and Antwaan Randle El, I'm not sure we will need to utilize that aspect of his game.
Off-field problems are on most Steelers fans' minds these days, so it should also be noted that Sanders was suspended for the final 2 games of his junior year for violating the team's "3-strikes" rule (he missed or was late to practice 3 times).
Overall, Sanders is a shifty receiver who will need to get bigger and stronger at the next level.  This pick was probably a reach, but the Steelers must have seen something in him that I didn't.
To read about the Steelers' other picks, click the name below:
Thaddeus Gibson - DE, Ohio State
Stevenson Sylvester - LB, Utah
Jonathan Dwyer - RB, Georgia Tech
Antonio Brown - WR, Central Michigan
Doug Worthington - DT, Ohio State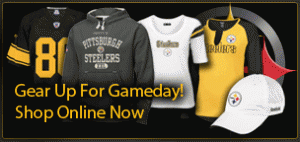 (If you enjoyed this article, please consider leaving a comment below. Also, please subscribe to our blog by pressing the orange button below. You can also follow us on Facebook or Twitter by clicking the doohickies at the bottom of the right column of this page.  Thanks.)

Subscribe in a reader