With the 18th pick in the fourth round of the 2010 NFL Draft, the Pittsburgh Steelers select Thaddeus Gibson, DE from Ohio State.
I can just hear Steelers fans now.  I know how you guys think.  You're saying "[email protected]*&%#!!!!!!  We need a cornerback, not another linebacker who's not even going to play for 2-3 years!  The Steelers draft picks suck this year!!!"
Go ahead, you can admit it.  That's exactly what you were thinking.  Now let me tell you why you're wrong.
The most important position in a 3-4 defense is the nose tackle.  Without it, the 3-4 doesn't work, and you may as well convert to a 4-3.  But the most impactful position is the outside linebacker.  The outside linebackers are the ones that get to rush the quarterback and cause general chaos.  A 3-4 defense can never have too many linebackers, and outside linebackers who can pressure the quarterback are like gold.  You can't have enough of them.  And frankly, the Steelers have picked up two of the best OLB prospects in this year's draft.
By strengthening the OLB position, you automatically upgrade the cornerback position.  Think about it.  What's the best way to prevent a receiver from catching a pass?  If you said "draft a shutdown cornerback", you're wrong.  The best way is to hit/pressure the quarterback before he can throw the ball.
How many times did you see Arnold Harrison or Patrick Bailey on the field last year (not including special teams)?  Almost never.  That's because the Steelers never give James Harrison and LaMarr Woodley a rest.  Never.  That's not good.  Sure, Harrison and Woodley don't like to come out of the game anyway, but that doesn't change the fact that their backups aren't very good.  That just changed.
Thaddeus Gibson came out a year early, after playing DE in a very successful Ohio State program.  He has faced excellent competition in the Big Ten.
At 6'2″, 243 lbs., Gibson will be converted from defensive end to outside linebacker by the Steelers.  Like Jason Worilds, Gibson is a pass rush specialist.  He is an exceptional athlete with very good speed for his size.  His 40 time was in the same range of linebackers 20-30 lbs lighter than him.
Most scouts had Gibson rated as a potential 2nd round pick, so getting him in the 4th round is a nice value.
Gibson is an explosive edge pass rusher.  He has excellent closing speed, along with great quickness and agility.  He is a strong tackler who makes explosive hits.
He is experienced at dropping into coverage, and has the athleticism to stay with tight ends or running backs out of the backfield.  This is important, because Dick LeBeau is going to ask him to do exactly that.  Not many defensive ends coming out of college have experience doing this.
Gibson has a great physique with very well-defined muscles.  Moreover, he manages to maintain his speed and agility despite the muscle.
Gibson is going to have to work on his technique.  He tends to rely on his speed, rather than strength or moves to win one-on-one physical battles.  He's going to have to change that.  He's going to have to develop a few go-to moves.  When called upon to battle good blockers like Iowa's Bryan Bulaga, Gibson was shut down.  But as a 3-4 outside linebacker, he will get more of a running start, so he won't have to do as much straight up physical battling as he did as a defensive end.
But Gibson is going to be a project.  He has to convert from DE to linebacker.  This is a difficult transition for most players.  Bruce Davis and Alonzo Jackson were never able to make the transition.  But based upon his skill set, and the things that he was asked to do in college, I think Gibson will be able to make the move.
While the Steelers probably took Jason Worilds and Emmanuel Sanders too early, they got a great bargain with Gibson, since he was thought to be a 2nd or 3rd round pick by most.
Despite the desire by most fans to see the Steelers take a defensive back with this pick, this was a good selection.  Moreover, this is a very deep draft when it comes to defensive backs.  There are still some good cornerbacks and safeties left on the board.
To read about the Steelers' other picks, click the name below:
Thaddeus Gibson - DE, Ohio State
Stevenson Sylvester - LB, Utah
Jonathan Dwyer - RB, Georgia Tech
Antonio Brown - WR, Central Michigan
Doug Worthington - DT, Ohio State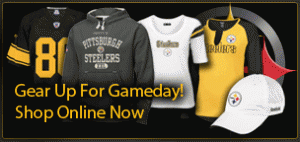 (If you enjoyed this article, please consider leaving a comment below. Also, please subscribe to our blog by pressing the orange button below. You can also follow us on Facebook or Twitter by clicking the doohickies at the bottom of the right column of this page.  Thanks.)

Subscribe in a reader