With their second round pick in the 2010 NFL draft, the Pittsburgh Steelers select Jason Worilds, a defensive end from Virginia Tech.
As much as I liked the Steelers' first round pick (Maurkice Pouncey), I really dislike their second pick.  It's nothing against Worilds.  He's a good kid, and I'll talk about his virtues in a moment.  But he is a highly specialized athlete.  He wasn't projected to go this early, and because of his physical limitations, there are only a handful of teams that could utilize him.  So there was no need to reach for him.
In college, Worilds played defensive end.  However, at 6'2″, 250 lbs., he is too small to play that position in the NFL, so he projects as a 3-4 rush linebacker.  More and more teams are switching to the 3-4 defense, so there is more competition for the "tweeners" that make the best 3-4 outside linebackers.  However, because of Worilds' height, many teams would have shied away from him (at least this early in the draft).
In addition to his height, Worilds doesn't have the fluid hips needed to change directions well, so he is not great against the run.  He also doesn't hold his position well, and often gets blown out of the play by blockers.
Because of these limitation, he is only suited to a small number of teams.  His skill set is best suited to a zone-blitz team (like the Steelers), or a one-gap 3-4 defense (like the Steelers, Chargers, and 49ers).  So there was never going to be a bidding war for Worilds.  There are no more than 5 teams in the entire NFL that could have utilized him optimally.  That's why I think he would have been available in the 3rd or even 4th round.  I would have preferred to use such an early pick on a defensive back, or inside linebacker.  There are even a few offensive tackles that would have been a great value at this pick. But the Steelers are making the pick, not me.  So let's talk about Worilds' positives.
Despite what I just said, Jason Worilds is going to be a good player for the Steelers.  He fills a very real need for the Steelers.  Most fans view outside linebacker as a strength for the Steelers.  But in actuality, the Steelers are weak at the position.
Some of you are thinking, "We have James Harrison and LaMarr Woodley at outside linebacker.  How can this idiot possibly say the Steelers are weak at the position?"  Well, here's why I say that.  What would happen if LaMarr Woodley got injured in the second game of the season and missed the rest of the season?  Who would replace him?  And James Harrison will be 32 this season.  His career is rapidly drawing to a close.  Who is his eventual replacement?  See what I mean.  The Steelers have great depth at inside linebacker with Larry Foote and Keyaron Fox.  But at outside linebacker, the depth chart is essentially empty.  The Steelers needed to fix that problem.
Despite his shortcomings, Jason Worilds excels at one thing; rushing the quarterback.  This kid probably has the best pursuit skill of any defensive end in this year's draft.  That is a GREAT skill to have.  Particularly given what the Steelers ask their outside linebackers to do.
Worilds is a phenomenal athlete with elite speed  and explosiveness.  He is very quick off the snap, and his straight-line speed is exceptional.  He is also a weight room fanatic who is extremely muscular.
He is great at running down passers and running backs (so long as he doesn't have to change directions), and he delivers a crushing blow when he tackles.  So as a pass rushing specialist, he is an excellent pick.
He has a variety of moves, including a nice spin move (ala Dwight Freeney) and a good swim move.  Moreover, he is relentless in pursuit, and doesn't give up on the play.
Worilds did have a history of injuries in college.  His freshman season was ended early by a shoulder injury.  He missed one game in his sophomore season due to an ankle injury.  He dislocated his shoulder during the 2nd game of his junior year, and the injury resulted in recurring shoulder problems.  The shoulder injury finally caused the trainers to end his season early and sit him out of the Orange Bowl.  It turned out he had torn his labrum.  He had to have the shoulder surgically repaired in 2009.  Since the surgery, he has had no problems with the shoulder.
In summary, I like this pick.  I think he is going to be a terror chasing the quarterback, and he will add much-needed depth at outside linebacker.  However, I think the Steelers could have gotten him in the 3rd or even 4th round.
To read about the Steelers' other picks, click the name below:
Thaddeus Gibson - DE, Ohio State
Stevenson Sylvester - LB, Utah
Jonathan Dwyer - RB, Georgia Tech
Antonio Brown - WR, Central Michigan
Doug Worthington - DT, Ohio State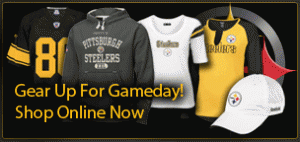 (If you enjoyed this article, please consider leaving a comment below. Also, please subscribe to our blog by pressing the orange button below. You can also follow us on Facebook or Twitter by clicking the doohickies at the bottom of the right column of this page.  Thanks.)

Subscribe in a reader