Steelers Today has hooked up with 31 other NFL bloggers from around the country to do a bloggers' mock draft.  All 32 NFL teams are represented in the mock draft.
The mock draft is sponsored by Cleveland Browns blog No Logo Needed.  For more details on the bloggers' mock draft, click here.
With the twelfth pick of the 2009 NFL Draft the Denver Broncos blog Mile High Report selects…
Malcolm Jenkins, cornerback, Ohio State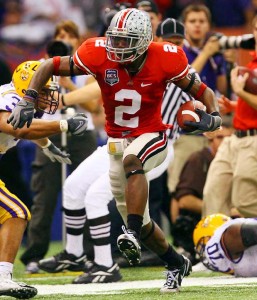 The Denver Broncos have a lot of needs, all on the defensive side of the ball.  In this draft, however, many of the guys the Broncos are targeting have already left the board – Raji, Rey-Rey, Orakpo, even Matthews as a sleeper.  For me it came down to Jenkins or Brian Cushing and at this point I gave the slight edge to Jenkins.  He has the perfect size to step right in for the Broncos and play the nickel, and should injuries crop up at either corner or safety Jenkins could step right in there too.  There are questions about his speed, but having watched 95% of Ohio State's games during Jenkins career I can honestly say he plays a lot faster than his straight-line 40-time.
The Broncos have a ton of needs, and while some might think that CB isn't one of them, with Champ Bailey on one side and FA acquisition Andre Goodman on the other, Jenkins is just the type of physical presence that could step in and make an impact on Day 1.  Playing with Champ and Brian Dawkins every day will do wonders for him and the kid has all the tools to be a star.
 It might not be the sexy pick, but with Josh McDaniels and Co. running the show the Broncos are likely to be safe and Jenkins would definitely be the safest pick of those who remain.
The draft results so far are shown below.  Click on the individual pick to read the blogger's rationale for his selection.
1. Detroit Lions:  Mathew Stafford, QB (Georgia)
2. St. Louis Rams: Eugene Monroe, OT (Virginia)
3. Kansas City Chiefs: Aaron Curry, LB (Wake Forest)
4. Seattle Seahawks: Michael Crabtree, WR (Texas Tech)
5. Cleveland Browns: Rey Maualuga, LB (Southern California)
6. Cincinnati Bengals: Jason Smith, OT (Baylor)
7. Oakland Raiders: Jeremy Maclin, WR (Missouri)
8. Jacksonville Jaguars: B.J. Raji, DT (Boston College)
9. Green Bay Packers, Brian Orakpo, DE (Texas)
10. San Francisco 49ers, Everette Brown, OLB (Florida State)
11. Buffalo Bills, Clay Matthews, OLB (Southern California)
12. Denver Broncos, Malcolm Jenkins, CB (Ohio State)
The Washington Redskins are on the clock.
(If you enjoyed this article, please consider leaving a comment below. Also, please subscribe to our blog by pressing the orange button below. Thanks.)

Subscribe in a reader